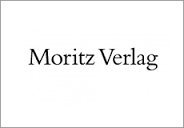 Moritz Verlag was founded as a subsidiary of the Paris-based leading French children's book publisher l'école des loisirs in Frankfurt on the Main in 1994 with Markus Weber as the publishing director. The publishing house quickly made its mark with picture books that had a strong appeal thanks to their unusual vigour and colourfulness.
As early as 1995 Yvan Pommaux received the German Children's Literature Award for »Detective John Chatterton« as the best picture book of the year. This was followed by Grégoire Solotareff for »Du groß, und ich klein« (»You Big And Me Small«) in 1997 and by Chen Jianghong's »Han Gan und das Wunderpferd« (»Han Gan and the Magic Horse«) in 2005. Lastly it was Claude K. Dubois, who received this coveted award, for which many titles by Moritz Verlag have been nominated over the years, for »Akim rennt« (»Akim Runs«) in 2014.
In 2010 Moritz Verlag began to publish books for first-readers, themed ›for all those who already enjoy reading by themselves‹. Non-fiction books also make for a considerable share of the publishing list. As regards sales and distribution, Moritz Verlag is co-operating with the Beltz Publishing Group in Weinheim. Moritz publishes approx. 20 new books per year, of which four titles are usually children's literature.
Moritz Verlag's picture books are committed to becoming children's favourite books. They want to tell fascinating and meaningful stories that are compellingly illustrated. It turned out that those books that are told and illustrated by the same person are usually the most impressive. Moritz publishes board books and picture books from around the world as well as non-fiction picture books and a first-readers' collection.
Publisher's Catalogue – Autumn 2018
worldwide