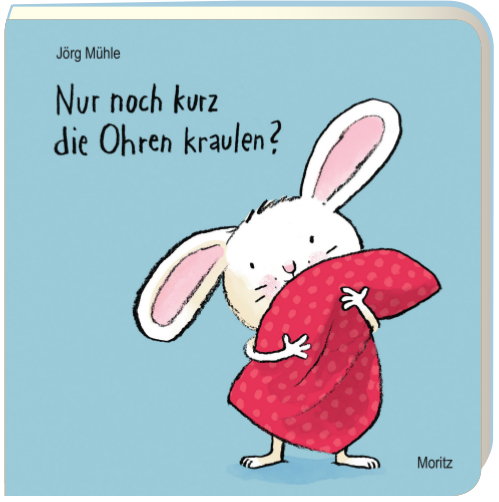 It's getting late and Little Rabbit must go to bed. Can you help him?
This interactive board book introduces a wonderful new bedtime ritual:
Clap your hands, fluff the pillow, give Little Rabbit's ears a tickle, stroke his back, pull up the covers and give him a goodnight kiss. And don't forget to turn off the light: here's the switch!
Enjoy this sweet interactive animation where you can tuck Little Rabbit in, tickle his ears, kiss him goodnight and turn off the lights here.
by Jörg Mühle
White Raven 2015

Leselotse Recommendation – Jan 2015

Recommended by Stiftung Lesen

Nominated as Babybook of the Year 2015 (Netherlands)
"A wonderful interactive bedtime book for children and little rabbits." – Axel Scheffler

"The most unbelievably cute book imaginable!" – Björn Lauer, Hugendubel

"Soft, crayonlike outlines and some lovely touches (Little Rabbit's rosy cheeks have the texture of thumbprints) help establish a quiet mood that could help pave the way for smooth bedtimes on readers' parts, too." – Publishers Weekly (US)

"The illustrations are harmoniously reduced, the colours dipped in evening-soft tones, the instructions simple and varied – and the cute protagonist doesn't just enchant tired children. With a big cuddle and favourite-book-factor!" – Stiftung Lesen (German Reading Foundation)
---
Moritz Verlag | board | 22 pp | 170 x 170 mm | Feb 2015 | 2+
Rights sold: Catalan, Chinese (complex & simplified), Danish, Dutch, English (world), Faroese, Finnish, French, Hebrew, Hungarian, Irish-Gaelic, Italian, Japanese, Korean, Polish, Russian, Spanish, Swedish, Ukrainian

[original title: Nur noch kurz die Ohren kraulen?]
The other Little Rabbit books in this series:
Merken
Merken
Merken
Merken
Merken