Bathtime for Little Rabbit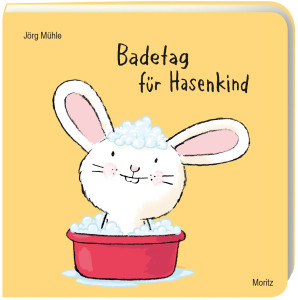 Who enjoys having their ears washed? Little Rabbit doesn't like the idea, but it turns out to be not so bad after all. But he does need your young reader's help. When the blow-dryer breaks, we must blow his ears dry. Wfffff! Keep blowing! Now wrap him in the towel and bathtime is over. Squeaky clean, Little Rabbit!
Jörg Mühle has created another sweet and simple bunny boardbook that invites children to take charge of bathtime with fun activities on every page. Children can help turn on the shower, cover Little Rabbit's eyes, wipe the water off his nose. Fun for everyone: babies and toddlers, parents and bunnies!
Designed to be read aloud, this tried-and-true, surprising book will get young children excited about bathtime. Teaching toddlers and preschoolers about bathtime routines, it also makes a perfect baby shower or infant birthday gift. Adults never tire of their child's enthusiastic washing and wfffing!
Moritz Verlag
Board Book

Original title: Badetag für Hasenkind
Age 2+
22 pp | € 9.95
bb | 170 x 170 mm
Publication: 2016

Author & Illustrator: Jörg Mühle
Rights sold: Catalan, Chinese (compl. & simpl.), Danish, Dutch, English (world), Faroese, French, Gaelic, Hebrew, Hungarian, Italian, Japanese, Korean, Persian, Polish, Russian, Spanish, Swedish, Turkish, Ukrainian, Vietnamese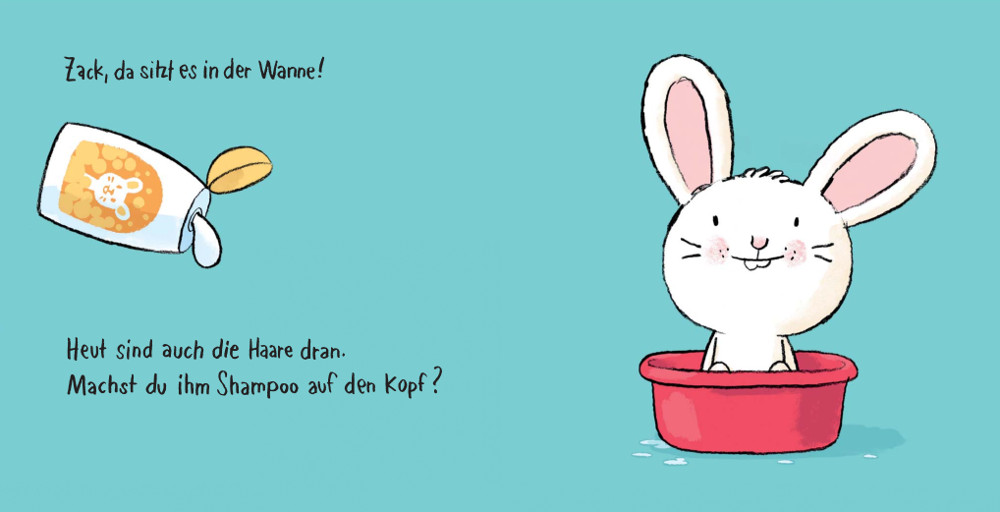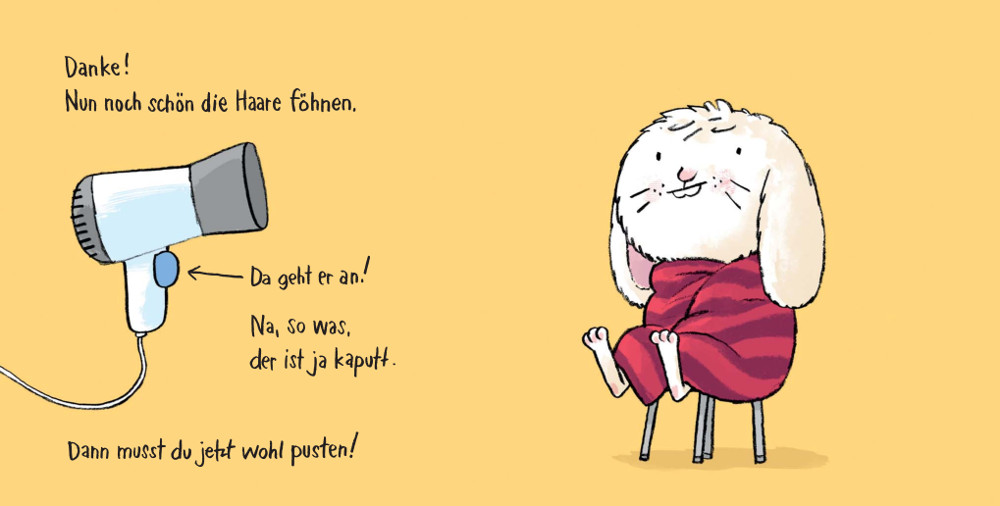 "Mühle has done a great job of taking a simple concept and not overcomplicating matters. By doing so he has created a series of books that can be translated into a multitude of languages and still work as the book speaks perfect baby. With all the different fun actions to partake in as you go through the book, this is one story that both adults and children will enjoy with the added benefit of improving bathtime for all." – The Bookbag (UK)
"Young ones see just how easy and safe it is to have a bath and have heaps of fun too. A lovely, warm and reassuring book to share and enjoy." – Book Trailers 4 Kids and YA (NZ)
"Mühle has done a great job of taking a simple concept and not overcomplicating matters. By doing so he has created a series of books that can be translated into a multitude of languages and still work as the book speaks perfect baby. With all the different fun actions to partake in as you go through the book, this is one story that both adults and children will enjoy with the added benefit of improving bathtime for all." – The Bookbag (UK)
"Gives toddlers a sense of power and control over their lives they perhaps don't often experience at that age. This funny, sweet, reassuring and empowering little board book about bathtime is perfection." – Playing by the Book (UK)
By the same author and illustrator