Makes you want to go to the museum—an exciting mixture of narrative text and non-fiction picture book
Museum moth Heribert is a great lover of art. After a visit to his family in the countryside, he takes his niece Jolinde to the museum where he lives to show her how great art is and how good it tastes.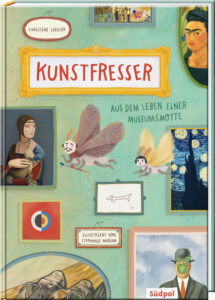 A thief who wants to steal Heribert's favourite picture, of all things, causes a great stir. Can the insects living in the museum work together to set off the motion detector? This would be the insects' chance to be of benefit to the people at the museum who consider them pests.
In the course of the story, many questions about art & museums are briefly and succinctly explored in a way that is suitable for children, e.g. What is art? What is a museum? Since when have museums existed? What different museums are there? Some are presented by way of example. What pests are there in a museum? How is a museum structured?
A richly illustrated museum excursion with many suggestions.
"breathtakingly beautiful book" – Lena Schröder, Fuddelknuddels Bookshelf

"In a delightfully playful way, moth Heribert and his niece Jolinde present the world of art: exciting factual information and versatile opportunities to become artistically active yourself complement the endearing story." – STUBE Pages of Children's Literature: The Most Notable New Publications of 2021

"The story is vividly told and full of details from a museum insider. Christine Ziegler manages the balancing act between interesting and gripping story and conveying detailed factual information. All the facts are described in a child-friendly way without oversimplifying." – Anneke Horstmann, Association of Restorers

"… ideal for introducing children to the world of museums and arousing their curiosity. The book is written with humour, and a visit to the museum does not have to be dry either – on the contrary! It can become an exciting journey into another world". – Maike Jacobs, Neue Presse Hannover

"The book is not just a mere non-fiction book, it is also an invitation to children to actively engage with the subject and to participate, tinker or experiment in many places. This mix makes Art Eater a surprising and compelling work that is able to appeal to children on a wide variety of levels." – Rita Dell'Agnese, Kinderbuch-Couch
________________________________________
Südpol Verlag | hc | 64 pp | 230 x 330 mm | 6+
Rights sold: Chinese (simpl.), Italian, Kazakh

[original title: Kunstfresser. Aus dem Leben einer Museumsmotte]