The Extinction and Survival of the Species
"Larger than a swan, with the body of an ostrich and the talons of an eagle."
At the end of the 16th Century, the Dodo was discovered on the island of Mauritius, a flightless bird that lived peacefully among exotic plants and animals. Just a hundred years later, the Dodo had disappeared, becoming part of the large number of species that are now extinct.
In her new illustrated book, Isabel Pin explores how a harmless bird could disappear so quickly and considers what we can do to prevent more animals from simply disappearing.
Nominated for the German Children's Literature Award, 2022
Nature Book of the Month, Oct 2021, German Academy for Children's Literature
A book written with scientific advice for readers young and old.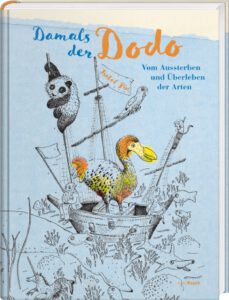 From the contents:
The Dodo
Animals that lived with the Dodo on Mauritius
Why didn't the Dodo learn to fly?
World map of endagngered animal species
At risk, critically endangered, in danger of extinction- – what are the differences?
What could be done to save endangered species?
The reappearance of lost species … and much more
The extinction of species and the environment explained in a child-friendly way.
Well-founded content and lovingly illustrated.
Printed on recycled paper with mineral oil-free inks without shrink-wrapping.
"The dodo is a bird that lived long ago on Mauritius and other islands of the Mascarene Islands. With the European conquest in the 17th century, the bird became extinct. The informative and excitingly written non-fiction picture book traces this fascinating creature, introduces it and, along the way, tells of man's interaction with nature. A large-format and magnificent book in text and pictures!" – The Jury, Deutsche Akademie für Kinder- und Jugendliteratur

"The bibliophile-looking large format At the Time of the Dodo invites you on a thematic journey through time. At the centre is the exotic-looking dodo that inspires the imagination. Where exactly did he live? Diet? Flying abilities? – All this is clarified and at the same time used as a template to draw attention to other extinct and endangered species. In terms of content, the book masters hundreds of years of natural and cultural history, which merge here into an impressive all-round view. Biology, ornithology, palaeontology and history are skilfully interwoven and supplemented by biographical notes on researchers and collectors. The result is a comprehensive knowledge package that leads up to our own time and ends with a map of endangered species. It is brilliant how the book sets warning signals without moralising, how the horizon of reflection is unobtrusively broadened.
At the Time of the Dodo is entirely characterised by the artist Isabel Pin. Filigree illustrations, sometimes sketched only with a delicate black line on the yellowed-looking paper, sometimes underlaid with ink colours, inspire with their charm and richness of variety. Parallel to this flows a light, exciting reading text […]. " – The Jury, Deutscher Jugendliteraturpreis

"Isabel Pin has managed to memorialise this extraordinary bird, as fascinating as it was trusting, in this beautiful non-fiction book, whose important message and multi-layered problem we should all take to heart." – lesewelt.at

"On the important topic of biodiversity […] also recommended due to the extremely felicitous illustrations." – ekz
________________________________________
Karl Rauch Verlag | hc | 72 pp | 240 x 320 mm | 8+
Rights sold: Korean, Russian

[original title: Damals der Dodo]