Wechsel zur Website für deutschsprachige Verlage
Dies ist die mundt agency Website für internationale Verlage. Deutschsprachige Rechte und Lizenzen sind für die Bücher erhältlich, die auf dieser Website präsentiert werden:
We are a rights agency representing 16 children's book publishers from Germany, Austria, France, Spain, New Zealand and Ireland.
mundt agency works solely for publishing houses and acts as their exclusive rights agent, representing and selling rights in their children's books across the world.
LILI FLIES AT THE TOP by Julia Willmann has won the Korbinian Paul Maar Newcomer Award 2023! Congratulations! This prize is awarded by the German Academy for Children's Literature and the jury said: "Exciting, full of linguistic wit and close to the facts, Julia Willmann succeeds in adapting Nature Writing for a younger audience, sensitizing them to biodiversity as well as its threats."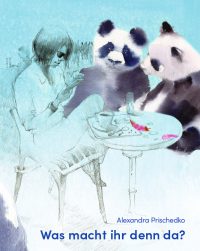 "What Are You Doing There?" won the Troisdorf Children's Jury Picture Book Award! The children's jury had chosen her book with a clear majority. This is already the second honour for the young German-Ukrainian artist Alexandra Prischedko. Congratulations! This special picture book has already been shortlisted for the Serafina 2022, which is the Illustration Newcomer Award by the German Academy for Children's Literature.
Our portfolio includes board books, picture books, children's and young adult fiction, comics & graphic novels, children's & juvenile non-fiction, activity books and cookbooks.