The tiny woman makes a coat of leaves with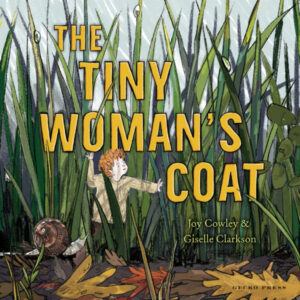 the help of friends in this vibrant rhyming tale. The trees, geese, porcupine, horse and plants all share something so the tiny woman can snip, snip, snip and stitch, stitch, stitch a coat to keep herself warm.
Resourcefulness and friendship are at the heart of this simple rhythmic poem by one of the world's best children's writers. Buoyant and satisfying to read aloud, this small book will leave the reader snug as a bug.
by Joy Cowley & Giselle Clarkson
The Times Children's Book of the Week
"An inventive and delightful tale that evokes Thumbelina, The Borrowers, and other beloved wee characters." – Kirkus Reviews
_____________________________________
Gecko Press | hc | 28 pp | 206 x 206 mm | 2021 | 2+
All rights available, except for Chinese & Turkish