When two quarrel, the third rejoices. That's also the case in this beautiful book, which is about sharing, arguing and being outwitted.
The bear finds three tasty mushrooms on his way home through the woods. His friend, the weasel, immediately braises them in the heavy frying pan. But then the two friends have a problem: Three mushrooms for two? How's that to work? Both come up with one argument after another, as to why each should have more than the other one: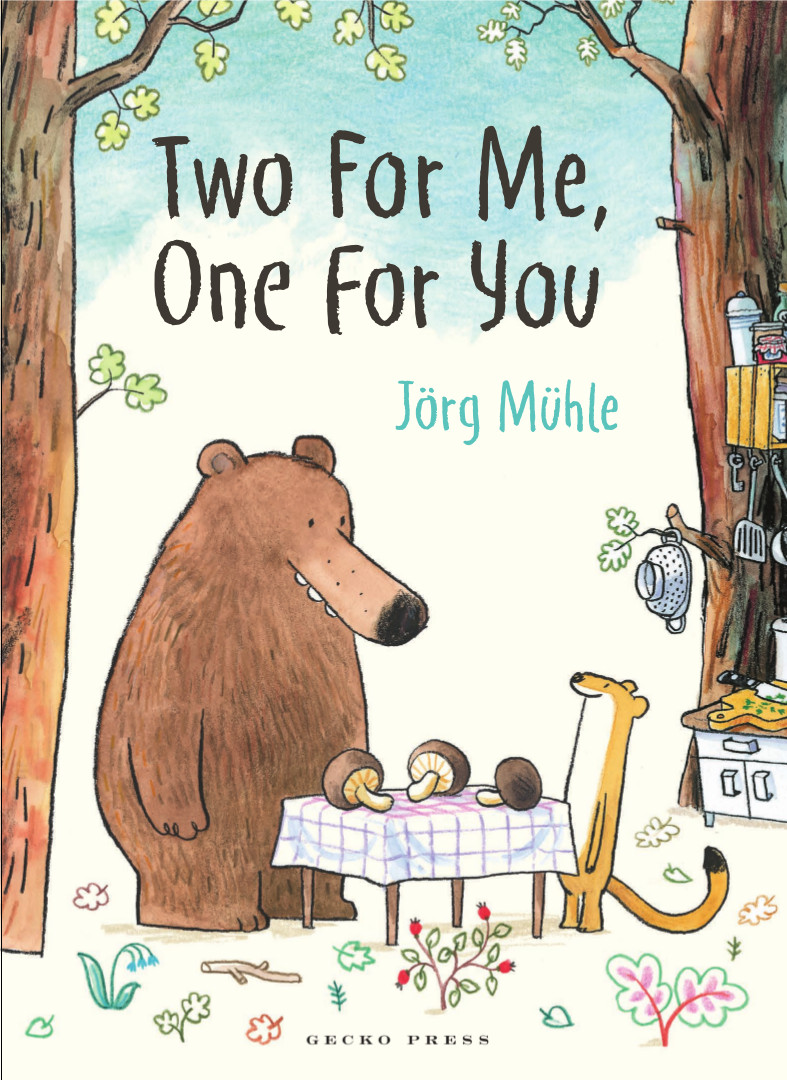 I found them! I have prepared them.
But with my recipe. I like mushrooms much more than you!
I am bigger! I am still growing …
Until the cunning fox suddenly comes around the corner and snatches one of the mushrooms.
He has stolen our mushroom!
At the same time, this solves their problem and peace ensues.
If it wasn't for the weasel serving a dessert: Three wild strawberries …
by Jörg Mühle
Nomination for the German Children's Literature Award 2019

White Raven 2018

Leipzig Reading Compass 2018

Seven Best Books for Young Readers

–

April 2018

Children's Book of the Week – Die Presse, April 2018
"Mühle's storytelling has a fine sense of comic pacing, and his cartoons are simple but effective, uncluttered and full of white space, creating cozy domesticity in the forest." – Kirkus Reviews

"The illustrations and the reduced text are as funny as they are lovely, they make children laugh and think. This book is a wonderful achievement." – Rosa Schmidt Vierthaler, DIE PRESSE


"A magnificently drawn picture book for the little ones about disputes and trying to come to an agreement." – Die Besten 7, Deutschlandfunk


"With a stroke that allows over-drawing, and with few colors Mühle tells of a dispute that is annoying in the children's bedroom and entertains well in a picture book." – Hans ten Doornkaat, NZZ am Sonntag


"This book encourages a fun and delightful discussion abou how to share." – Susanne Lux, Bh. Nimmerland, Mainz, in Kaffee oder Tee, SWR
---
Moritz Verlag | hc | 36 pp | 175 x 245 mm | 2018 | 4+
Rights sold: Catalan, Chinese (complex & simpl.), Danish, Dutch, English (world), French, Italian, Korean, Russian, Spanish, Swedish, Turkish, Ukrainian

[original title: Zwei für mich, einer für dich]
Also by Jörg Mühle: