Little Rabbit is back!
First he hides behind a blanket, then he peeks out from behind: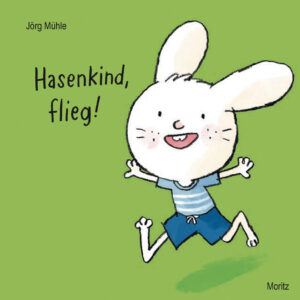 Peek-a-boo! Little Rabbit loves everything that little children like: swinging or splashing in the bath, for example. Or playing "One Two Three, Whee!" with his little doll. And in the end, he even sticks his tongue out at us, because Little Rabbit is a cheeky little monkey …
Jörg Mühle has created an unmistakebly popular character with this little rabbit, who has become a favourite in children's bedrooms all over the world.
With this compilation of little sequences that are very familiar to young children, he has achieved a brilliant sequel to his best-selling series.
by Jörg Mühle
__________________________________
Moritz Verlag | board book | 22 pp | 170 x 170 mm | 2021 | 2+
Rights sold: Dutch, Turkish
[original title: Hasenkind, flieg!]
Other titles in this series: