Lilo and old Hein make a bet: Whose little plant will grow better within four weeks?
If anyone, it should be old Hein from the nursery who knows what plants need to grow big and strong. But his recipe is simple: The main thing is that they get enough sun and water. Lilo has a different opinion altogether: They need love and they must be treated well. And not only that: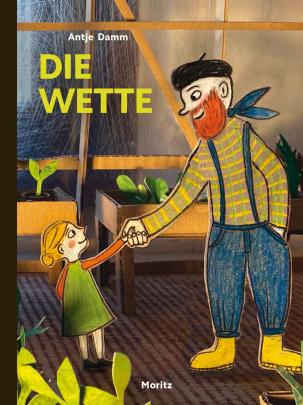 Lilo plays the flute for her little plant, tells it a bedtime story and so that it can see how big it can grow, she takes her plant to see other plants. So it's no wonder that Lilo wins the bet! And what does old Hein give her? The greatest gift of all: a palm tree!
With her technique of building scenes and characters from cardboard, Antje Damm has broken new ground since her picture book The Visitor, which opens up wonderfully diverse possibilties. The Bet is a fresh, fine book from her workshop that also reflects her view of nature.
by Antje Damm
"A beautiful and clever picture book that demonstrates the meaning of nature." – Andrea Wanner, ekz

"Inspirational in many ways." – Sandra Rudel, Buchhandlung Schmitz junior, BuchMarkt
---
Moritz Verlag | hc | 36 pp | 195 x 253 mm | 2021 | 5+
Rights sold: French
[original title: Die Wette]