It's not every day that a horse rings the doorbell and comes to a child's birthday party. But today is that day! The guests are thrilled because Robin, the horse,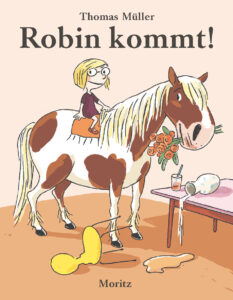 takes them on his back and gallops with them through the wide prairie, past fertile oases up to highest vantage point and to a bubbling spring. When they discover a treasure chest, Robin suddenly disappears …
But the children find him again and then they discover that the area is inhabited: by natives who serve them specialities they call 'juice' and 'cake'. The birthday child decides to stay with them!
This story, set between dream and reality, is very much in line with children's wishful thinking. Because a horse as a birthday guest has not been seen since Pippi Longstocking!
by Thomas Müller
Leipzig Reading Compass 2022
"A very matter-of-factly told and yet delightfully wacky story that celebrates children's imagination. This is the stuff entertaining read-alouds are made of! This is counterpoint storytelling at its best: Text and pictures each deliver a story all of their own. And suddenly anything is possible!" – Leipziger Lesekompass Jury

"Wonderful fun and a great read-aloud book." – Dr. Marlene Zöhrer, Die 100 Besten
---
Moritz Verlag | hc | 40 pp | 213 x 276 mm | 2021 | 4+
All rights available
[original title: Robon kommt!]
Other books by Thomas Müller: