The beaver had thought of everything. He wanted it to be a perfect day out. The views were spectacular.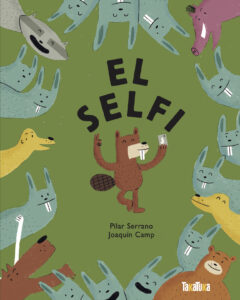 He took out his cell phone to immortalize the moment with a selfie, but it seemed as if all the animals in the woods wanted to be in the picture with him.
Will the beaver be able to manage? Will he get to take his selfie?
A cumulative tale that will get the youngest ones, wholly familiar with taking group selfies, to have a good laugh with the continuous interruptions of the action, and to enjoy the blooper shots they'll find in the  endpapers at the back.
by Joaquín Camp & Pilar Serrano Burgos
"A charming cumulative tale that will make children laugh in each of the scenes that represent the frustrated attempts, for the most varied of reasons, to take a selfie. They will also learn about the animals that live in the forest and will be able to play at counting the animals of the same species. On the endpapers at the front, the beaver reads peacefully surrounded by photographs and in endpapers at the back, he reads next to the funny fake selfie shots". – Lupa del Cuento

"The digital world pushes us to think that the image is more important than the action and that everything that is not recorded is in danger of disappearing. Nothing could be further from the truth, because enjoying the present moment and the memory is better than capturing everything and then sharing it with others we may not know. Through a simple story and in an amusing way, one of society's problems is tackled and solved in a rather peculiar way, starring humanised animals and accompanied by beautiful illustrations by Joquín Camp that capture all kinds of situations at the right moment". – Àngels Amorós, Culturamas

"Selfies are taken all over the place, as one can see in this delightful picture book. One sunny day, Beaver sets off on an outing in the countryside. What a gorgeous view! How peaceful! Nothing but birds' twittering. A perfect spot for a selfie, thinks Beaver – if it weren't for all the other animals, magnetically drawn toward his camera. The friendly beaver is patient. All of them are allowed to get into the shot: a rabbit and its very large family, a racoon, some nutrias, a stag, a bear, a wild boar… Gradually it gets a bit cramped, the animals are climbing all over each other. It's getting dark, the battery is nearly empty. »Everyone look this way – cheese!« Exhausted, but happy Beaver returns home. The photo is so-so, but the day was fantastic. Pilar Serrano and Joaquín Camp lampoon the human (and evidently also animal) obsession with selfies in a most humorous and congenial manner. The ever growing, merry confusion is hilarious, and a guarantee that one will pick up this book over and over again." – The White Ravens
---
Takatuka | hc | 32 pp | 207 x 270 mm | 2021 | 3+
Rights sold: Korean

[original title: El selfi]