What is that supposed to mean: The mice are ordered to let a stranger move in with them? This is outrageous!
A letter from the mayor changes the quiet subterranean lives of the mice: Someone is going to move in with them, someone, who lost his home. "Where is this person going to sleep? We don't have enough room! Nor do we have enough potatoes to feed everyone." But it doesn't take long and Lysander is there. He is a red amphibian and he is terribly exhausted. As mice do not like taking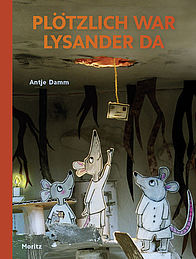 baths, they allow him to settle down in the bathtub. But when he starts filling it with soil and tiny grains, the mice lose it. However, Lysander manages to enrich the world of the mice with something they all can enjoy. He may stay.
by Antje Damm
Antje Damm used her unique technique to create a picture book about a very current subject in a story, which is easily understandable for children.
"Another little masterpiece by Antje Damm." – Anita Ruckersbauer, bn Bibliotheksnachrichten, Salzburg

"An enchanting story about the fear of strangers and the enrichment that can come from entering other worlds." – leselieben.blogspot.com
---
Moritz Verlag | hc | 36 pp | 192 x 252 mm | 2017 | 4+
Rights sold: simpl. Chinese, Korean
[original title: Plötzlich war Lysander da]
By the same author: