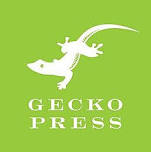 Gecko Press is an independent publisher based in Wellington, New Zealand. Every year Gecko Press translates and publishes a small number of carefully-selected children's books by some of the world's best writers and illustrators, from countries including France, Germany, Japan, Poland and the Netherlands.
Gecko Press also publishes two or three books each year by (mostly) New Zealand authors and illustrators.
Gecko Press books are the antidote to sameness.
They are built for readers who are inquisitive and understand that life is full of absurdities and incongruities. Many of them are funny.
A Gecko Press book offers a different way of seeing the world.
worldwide – except Mainland China, Taiwan and Turkey