Sarah Davis & Juliette MacIver
The Grizzled Grist Does Not Exist!
An exuberant rhyming picture book about a school trip to the hills, where no one sees the danger—apart from quiet Liam, who pays attention and saves the day with his particular skill of hiding.
It's the class trip to Dismal Hills wilderness. The children aren't worried about the legendary Grizzled Grist who lives here; they're excited to show off their outdoor skills—foraging, climbing, trapping. No one's impressed with Liam's skill of hiding. But it turns out a hider can see what others think does not exist.
A hider moves with soundless ease and treads as softly as the breeze.
At times, a hider barely breathes—but what is this the hider sees?
When the children and their frazzled teacher walk confidently into disaster, little Liam saves the day—a triumph for the quiet child no one notices.
From the world of That's Not a Hippopotamus also written by Juliette MacIver and Sarah Davis.
Gecko Press
Picture Book

Original title: The Grizzled Grist Does Not Exist
Age 3+
36 pp | US$ 16.47
hc | 260 x 250 mm
Publication: 2022

Author: Juliette MacIver
Illustrator: Sarah Davis
All rights available, excl. Chinese & Turkish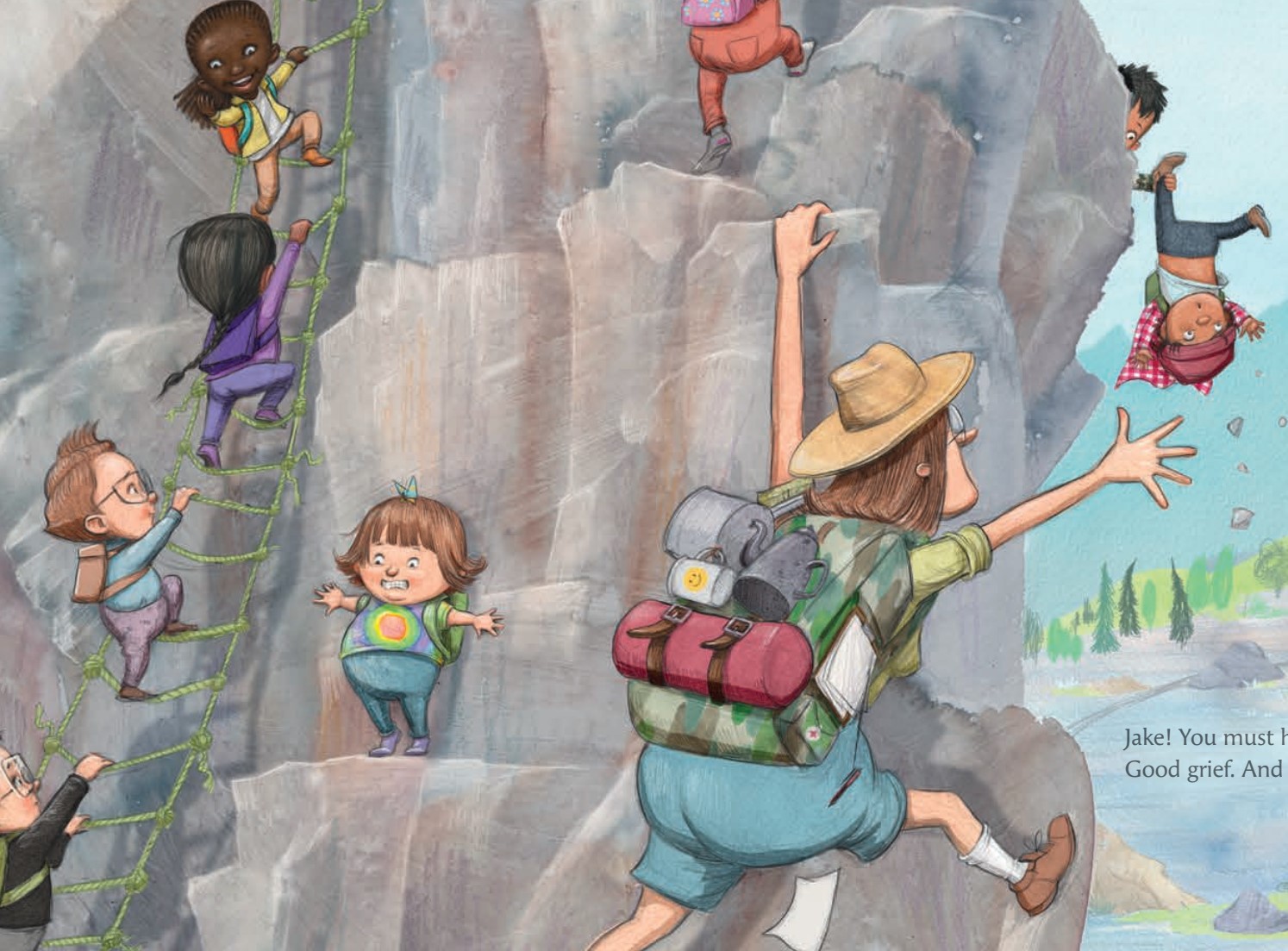 "Renowned author Juliette MacIver is a whizz at delivering a flawless and exhilarating rhymed text, which meets its match in Sarah Davis's vibrant illustrations brimming with comical details. The witty pictures also provide plenty of visual clues and funny asides. All through the book, they reveal that Liam's talent of hiding and observing the environment carefully is a heroic skill indeed. An entertaining read that begs to be acted out on stage." – The White Ravens 2023
"Using a mix of rhyming couplets and longer stanzas as well as creative line breaks, MacIver creates a bouncy read-aloud that will tickle children and adults alike. Brave—and not so brave—hikers will giggle at this class's brush with peril." – Kirkus Reviews
"Championing the feats of the 'hiders' of this world, this vibrant and charming picture book is an enchanting and triumphant tale for early-years adventurers, bursting with wonderment and the diversity of people, skills and nature." – Books + Publishing
"It's like I always say. If you can write a book in which the phrase "It's finis diem!" successfully rhymes with "He's eaten Liam!" then I will be your friend for life." – School Library Journal, Betsy Bird
"An empowering read for those quieter children… a book to revisit and savour." – Just Imagine
"Reminiscent of The Gruffalo in the best ways possible – it becomes more enjoyable, and entertaining on every read." – Kids Read the World
By the same author and illustrator