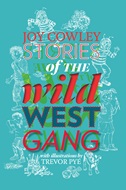 Mum said she nearly died. That wasn't true. But it was a shock for her. She and her sister didn't get along, and here was Auntie Rosie West, Uncle Leo West and the five West children moving into the next street.
Michael's cousins, the West family, are everything he's not allowed to be at home. Noisy, crazy and very,
very messy.
Wherever the Wild West Gang goes, adventure is not far
behind. And it's the sort of adventure you don't want your parents to know about.
by Joy Cowley
Episodic enough to dip in and out, this New Zealand import charms in small bites. – Kirkus Reviews (US)

These are delightful stories of Michael, the son of buttoned-down fun-hating parents, getting down and dirty with his mad cousins, and their devil-may-care parents. The Wests are all about old fashioned, innocent fun, their days packed with picnics and pandemonium, mud and mayhem, not a battery-operated toy or computer screen in sight. These are rollicking reads, perfect for an adult to enjoy with a child, or for newly confident readers to chortle over. – John McIntyre, Radio NZ reviewer

Only child Michael is stifled by his prim mum – until his cousins move in around the corner. Joy Cowley's Wild West Gang was around long before Outrageous Fortune – so it's great after many years to have an omnibus edition of Stories of the Wild West Gang, featuring the seven-strong family that creates ongoing mayhem. Classic Cowley. – 50 Best Children's Books of 2011′, The Listener
---
Gecko Press | 368 pp | 2011 | 8+
Rights sold: Chinese (compl.), French