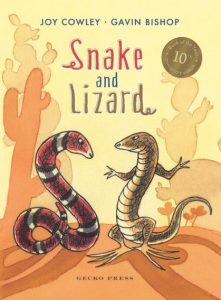 Two very different creatures learn about the give-and-take of friendship in these warm and funny stories set in the desert.
Snake is elegant and calm, and a little self-centred; Lizard is exuberant and irrepressible.
With its wisdom, acceptance and good humour, Snake and Lizard captures the essence of friendship.
The stories are beautifully illustrated by Gavin Bishop in the warm and clear colours of the desert.
by Joy Cowley & Gavin Bishop
The judges of the NZ Post Children's and Young Adult Book Awards said: "This timeless look at two feisty (and forgiving) best mates utterly beguiled the judges with its assured writing, sharp humour and gentle, unforced observations on the nature of friendship."
"Not a word out of place … in the tradition of Aesop's fables but much funnier and more unexpected." – Kate de Goldi, Radio NZ

"Everything about Snake and Lizard is elegant: the
writing, the illustrations, the message, the feel." – National Library online

"Snake and Lizard are 'The Odd Couple' of the reptile world.
The moment they meet, they argue about which of them
deserves the best sunning spot. Over time, and despite their
disagreements, the pair begins to enjoy each other's
company. They chat by the river, swap culinary stories
(Lizard loves crunchy fried flies, Snake prefers eggs…
whole), they even move in together." – The Age, Melbourne, August 2007
Listen to – and watch! – one of the stories of Snake and Lizard  here.
Winner NZ Post Book of the Year Award, 2008

Winner NZ Post Junior Fiction Award, 2008

White Raven 2008

Notable Book NZ, 2008

LIANZA Merit award, 2008
---
Gecko Press | pb | 102 pp | 2018 (anniversary edn.) | 6+
Rights sold: Chinese (compl. & simpl.), Dutch, German, Korean, Lithuanian, Japanese, Norwegian, Turkish