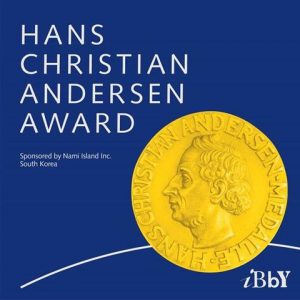 The Hans Christian Andersen Award is the highest international recognition given to an author and an illustrator of children's books. Given every other year by IBBY, the Hans Christian Andersen Awards recognize lifelong achievement and are presented to an author and an illustrator whose complete works have made an important, lasting contribution to children's literature.
The Author's Award has been given since 1956 and the Illustrator's Award since 1966. The Award consists of a gold medal and a diploma, presented at a festive ceremony during the biennial IBBY Congress.
The Patron of the Andersen Awards is Her Majesty Queen Margrethe II of Denmark and the Awards are sponsored by Nami Island Inc. Nominations for the Andersen Award are made by the National Sections of IBBY. The Award recipients are selected by a distinguished international jury of children's literature specialists.
The selection criteria include the aesthetic and literary qualities of writing and illustrating as well as the ability to see things from the child's point of view and the ability to stretch the child's curiosity and imagination. The complete works of the author and of the illustrator will be taken into consideration.
More information under: IBBY