Miro and Zia live in Aurora, a fishing town nestled in the shadow of a mysterious castle. Miro lives in the world of books; Zia is never without her camera. The day they meet, they stumble on a secret.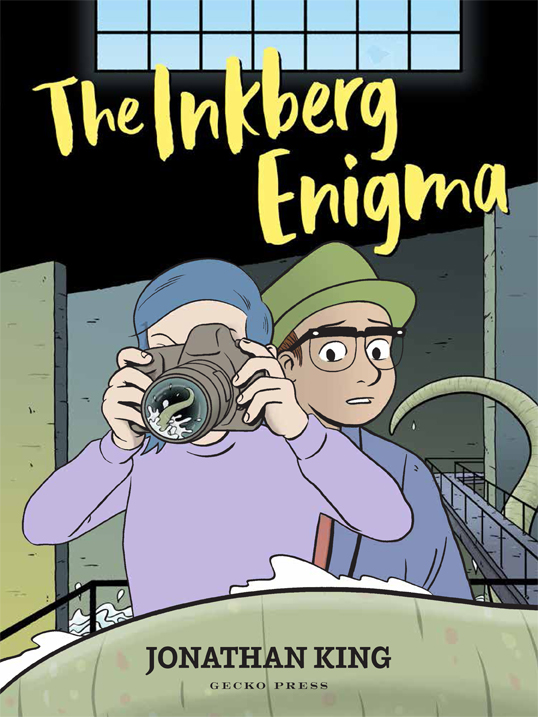 With Zia determined to discover more, a reluctant Miro is pulled into a real-life adventure.

The Inkberg Enigma is an exciting adventure with a strong filmic narrative. Jonathan King's ligne claire drawing style nods to the Belgian and French classics alongside a modern storytelling sensibility drawn from his background in film.
by Jonathan King
White Ravens 2021
NZCYA 2021 Book Awards Finalist

The Listener's "50 Best Kids' Books of 2020"
"Jonathan brings together a film-maker's skill for dramatic narrative with a classic and distinctive drawing style to create a page turner with children's innate sense of what is right at its heart." – Julia Marshall, Publisher

"In the best tradition of classic comics, the baddies get their comeuppance in this tale of an endearing couple of oddball kids." – The Listener (NZ)

"While the two kids get support from a community of helpful adults, the real stars of the story are the books that drive the action, as the protagonist expands his life both beyond and deeper into the world of books. The narrative itself swings back and forth from the present to the past, making full use of the flexibility of the graphic-novel format to help the reader navigate everything from historical documents to edge-of-your-seat action sequences. With an array of blended, multilingual, and multiracial families and diverse gender representation, this book is beautifully inclusive … Villains, magical books, and creatures from the deep combine for a fast-paced, rollicking graphic mystery." – Kirkus Reviews

"a lovely well told story that is reminiscent of Tintin but with a Lovecraftian twist. It will be on my recommends list for my library's Teen Graphic Novel book club." – Librarian, NetGalley Review
---
Gecko Press | pb | 128 pp | 205 x 270 mm | May 2020 | 8+
All rights available