The land holds the truth … the maps will reveal it.
Sal, Joe, Francie and Humphrey Santander are mapmakers looking for their father, a famous explorer who disappeared on his last expedition.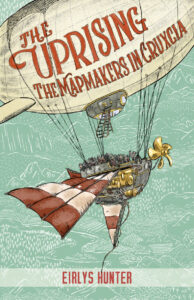 Their search leads them to a curious new land and a township under siege. The all-powerful Grania Trading Company plans to uproot the people of Cruxcia and alter the landscape forever. The Santander's mapping skills may be the last chance for the Cruxcians to keep their homes.
by Eirlys Hunter with illustrations by Kirsten Slade
A follow-up to the internationally successful The Mapmakers' Race—the Santander children are drawn into a community's rebellion against a despot and use their mapping skills to avert an environmental scam.
Resonant contemporary themes: revolution, environment, Indigenous land ownership
Part detective story and part adventure
The children have to produce maps for the trial on urgent deadline
"An inventive and linguistically scintillating story and the illustrations, including maps, by Kirsten Slade are a wonderful bonus. Highly recommended." – Bill Nagelkerke, Magpies Magazine,

"The Uprising is a great sequel that lives up to the high bar the first book in the series set. It's a wonderful read, and read-aloud, that will appeal immensely to middle-grade readers and adults alike." – NZ Booklovers,

"The adventure in this book is every bit as exciting as the first. There are terrible discoveries and wild skids down scree slopes, and a fabulous cast of characters, making for a very fulfilling read. Highly recommended." – Kete Books,

"For the teacher, this is such a gift as there are so many scenes to explore and ideas to develop which could be used to inspire children's writing. This is a beautifully written, compelling read." – North Somerset Teachers' Book Award,

"With plenty of dialogue, interesting character names and a constant frisson of adventure, this book is a good class reader choice." – The School Reading List,

"Will appeal immensely to middle-grade readers and adults alike." – NZ Booklovers
_____________________________
Gecko Press | pb | 256 pp | Nov 2021 | 10+
Rights sold: Italian; all other rights available, excl. Chinese & Turkish

The previous book: