A scrumptious collection for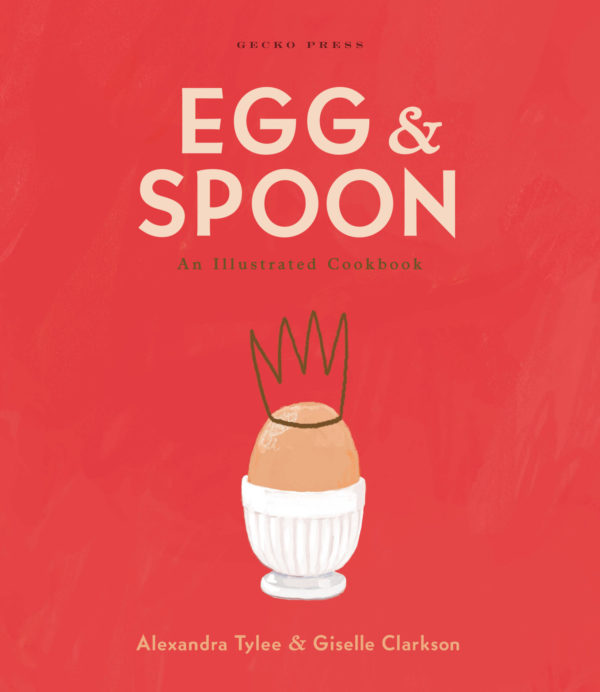 anyone who loves good healthy food— and an occasional indulgence. Here are after-school snacks, breakfast on a stick, cakes, slices and dinners. Egg and Spoon is for children learning to cook independently and families to enjoy cooking together. Much of the food is naturally gluten-free or vegan.
Alexandra Tylee is the owner and chef at Pipi Café, a little pink house, cottage garden and pizza truck. Pipi celebrates eating together and taking pleasure in small things—hot chocolate in a special cup, foraged food, a boiled egg slipped into a pocket for later. Tylee trusts children to choose flavours and handle equipment in this joyful book that will set them on a lifetime love of healthy cooking and eating.
Giselle Clarkson's illustrations are scrumptious and subversively playful.
by Alexandra Tylee & Giselle Clarkson
2021 NZCYA Book Awards winner of the Elsie Locke Award for Non-Fiction
The Listener's "50 Best Kids' Books of 2020"
"What I loved about this book was the discarding of hard and fast rules. Cooking is likened to a wonderful journey of discovery; finding what works for you. What an amazing lesson for children to learn!…Every recipe from Cauliflower Pizza Base to Watermelon and Feta Salad, has their pages filled with coloured illustrations that appear thrown on the page in abandon by illustrator Giselle Clarkson. It's a wonderful effect." – Kids' Books Review

"If you're looking for a cookbook that will feed the mind and fill the heart, look no further than Egg & Spoon…It's a fun collection of healthy and easy-to-make meals for children and its pages are filled with vibrant illustrations that pulse with colour and imagination…Egg & Spoon is a treasure. It's a gem filled with colour, humour and wonder, and treats children as capable, clever humans." – The Sapling

"bound to appeal to junior MasterChefs and busy parents alike…Egg & Spoon is designed to teach kids (and remind grown-ups) that cooking can be a joy, not a chore – and sometimes just a little bit magic. Many of the recipes are nutrition-packed and/or gluten-free or vegan, but you won't find earnest reminders to 'eat your veges, children' on any of these pages. Instead you'll encounter playfulness…If you want to feed your children's creative side (and get some help in the kitchen at the same time), Egg & Spoon is the perfect place to get cracking." – dish Magazine
---
Gecko Press | hc | 128 pp | 250 x 216 mm | 8+
All rights available