The Kiosk on Elser Corner - The Bukowskis Keep Going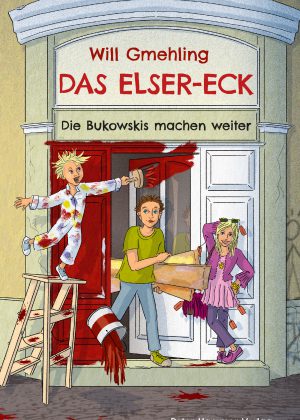 Here they are again, the Bukowskis: Alf, a real boxer by now and still in love with Joanna. Katinka, his annoying but ingenious sister, always busy with the fashion world. And the dreamy Robbie, who should never be underestimated.
Things are going well with the Bukowski siblings, only their parents are increasingly exhausted. The father from driving a taxi, the mother from selling bread rolls. But they are in for a surprise worthy of a film: Uncle Carl has inherited money and decides to share it with his brother's family.
They quickly come up with a joint project: Elser Corner! With the kiosk in the middle of their neighbourhood, the Bukowskis are in top form. Their cordiality easily extends beyond the boundaries of the family and their kiosk on Elser Corner becomes the centre of a colourful community. Alf, Katinka and Robbie make new friends and enjoy new freedom and all three continue on the exciting path they have chosen for themselves.
The Kiosk on Elser Corner follows on from Will Gmehling's The Lido and Next Round, but each of these novels can be read independently. 
Peter Hammer Verlag
Middle Grade Fiction

Original title: Das Elser-Eck. Die Bukowskis machen weiter
Age 10+
184 pp | € 15
hc | 178 x 230 mm
Publication: Feb 2022


Author: Will Gmehling
Rights sold: Greek, Italian

"With Will Gmehling, everything is real, from Katinka's "Oh là là" (…) to the man and woman who regularly drop by after the opening of the kiosk and whose dog is called exactly the same as Alf, Katinka, Robbie, Mum and Dad: Bukowski. That's what makes these stories so likeable, please by all means keep writing!" – Susanne Rikl / Good Books Read

"This part (is) also successful all round. The life of the Bukowskis is described pleasantly authentically and never lecturingly." – Malte Wegner / ekz