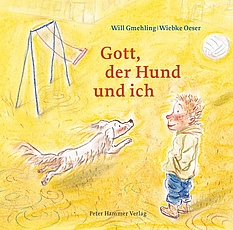 It was an ordinary day when God turned up. A place like many others, between the tower blocks, where the bins are placed. The boy on the swings immediately saw that it was God; this bloke in the old jacket and weird hat.
When the boy joined God for a walk, he wasn't afraid of anything, not even of the guy next door. Without getting tickets, they took the bus to the supermarket where the boy's mother works at the till. Without paying, God got ice cream for the boy and himself, and when he touched the mother, she briefly shimmered in thousands of colours. They joined the father at the football pitch, where he was meeting the other men, who were also without jobs. God smoked with them and they talked about the things that didn't work out—in football and in life.
On the way home, God untied a forgotten dog that followed him. When the boy had said his goodbyes, God and dog walked away and looked just like everyone else who was out and about.
Will Gmehling puts God right into the middle of life. Quite unspectacular he sees him where there is attention, care and trust and allows for the magic in these daily-life experiences to become noticeable. Wiebke Oeser's coloured pencil drawings strike the right note of the story; they narrate unobtrusively and with warmth.
by Wiebke Oeser & Will Gmehling
One of the 7 Best Books for Young Readers – October 2016
---
Peter Hammer Verlag | hc | 32 pp | 245 x 245 mm | July 2016 | 5+
Rights sold: Norwegian

[original German title: Gott, der Hund und ich]
Merken