Katrin Dageför & Anna Schindler
Penguins at the Sushi Bar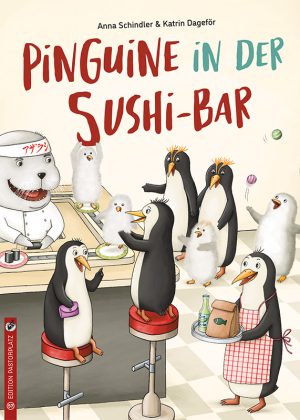 The two penguins Geraldine and Wellington build their nest in a sushi bar, of all places. And not only that. The penguins eat all the fish bites that go round and round on the conveyor belt.
But they can't pay for what they've eaten. When the police arrive to arrest them, their child hatches from the egg and turns everyone's head.
Loosely based on a true story.
Edition Pastorplatz
Picture Book

Original title: Pinguine in der Sushi-Bar
Age 5+
34 pp | € 16
hc | 210 x 270 mm
Publication: 2022

Author: Anna Schindler
Illustrator: Katrin Dageför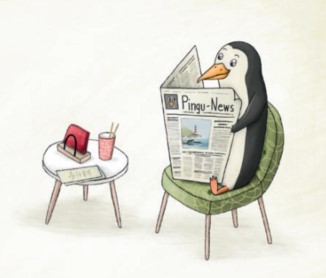 "Yes, family can consist of much more than just father, mother and child.
Tolerance, affection, togetherness, approaching each other, helpfulness and, of course, family – all this we experience in this wonderful story, which Anna Schindler has not only told brilliantly and captivatingly, but which has also been brought to life by Katrin Dageför with her unbelievably great, very dynamic, expressive illustrations. […] every single character is put on paper with so much love for detail and character that it is simply an unbelievable pleasure to immerse oneself in the speaking, telling world of pictures. […]  The adorable facial expressions and gestures of the characters in combination with a wonderful scenic dynamic make the overall picture so vivid that it passes by the inner viewer's eye almost like a film." – bibukreativ.blogspot.com
By the same author and illustrator