Suddenly as small as a beetle!
Adventure in the garden jungle
By accident, Leo and his inventor aunt Agnetha shrink to the size of bugs. The only thing that can make them grow back to their normal sizes is the shrink-ray device but the neighbor's cat stole it and carried it away. So Leo and Aunt Agnetha set out on an exciting expedition through the garden jungle. All of a sudden, dragonflies seem to be sailplanes, bumblebees look like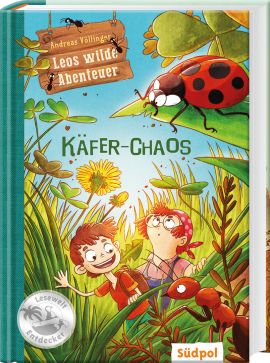 flying bears, and beetles and ants are as big as German Shepherds – help!
by Andreas Völlinger & Pascal Nöldner
---
Südpol Verlag | hc | 92 pp | 44 b&w illustrations | 2017 | 7+
All rights available
[original title: Leos wilde Abenteuer: Käfer-Chaos]
Other titles in the series: