Leo and his inventor aunt travel to the dinosaurs—unfortunately one of the huge creatures travels back with them and is suddenly standing in Aunt Agnetha's garden!
Leo is to give a presentation on his favourite animal in class. But how is he supposed to observe an Apatosaurus that has been extinct for a long time? Luckily his Aunt Agnetha is an inventor who hasn't only designed household robots, but also a time machine that takes them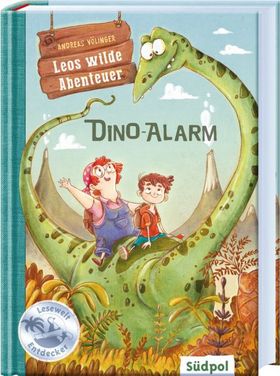 to the Jurassic to look at a living Apatosaurus! Disastrously, upon their return a huge dinosaur stands in the middle of Aunt Agnetha's garden and gets its teeth into the neighbours' rose bushes—until Leo shrinks it to dog size with Aunt Agnetha's shrivel projector.
by Andreas Völlinger and Pascal Nöldner
"A great, wild and funny adventure." – Radio Bremen

"This funny story is so entertaining, that you immediately start reading it anew in order to once again find out all the details about the great inventions and the exciting adventures of Leo and his aunt Agnetha." – www.kidsbestbooks.com

"A crazy trip back to primeval times, which provides a lot of  information about dinosaurs in an amusing manner. With funny illustrations." – Westfälische Nachrichten

"A lively story with a lot of action and fun for little dinosaur fans and all those who enjoy a good laugh." – Kinderohren.com

"A time travel treat for all those who enjoy thrilling and funny stories!" – Kilifü
---
Südpol Verlag | 92 pp | 148 x 210 mm | with 44 b&w illustrations | 2016 | 7+
All rights available
[original German title: Leos wilde Abenteuer. Dino-Alarm]
Other titles in the series:
Merken
Merken
Merken
Merken
Merken
Merken
Merken