Scary Poems for Brave Children
What could be more enjoyable than to get the creeps? Arne Rautenberg revives the un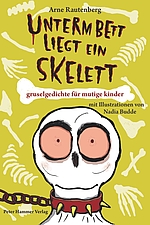 dead and has them rattle, slime and screech through his poems. Skeletons, cyclops, zombies and frops.
He rhymes with wonderfully disgusting ingredients and has huge fun with syllables, words and their sound. And as creeps and giggles go hand in hand, Nadia Budde's illustrations are the perfect complement. She delivers the hairy and bug-eyed creatures that give everything they've got to frighten us—and they are pretty hilarious at that!
Children's poems that are great fun, inspire delight in language and in experimenting with sounds and crazy mind games. And they are perfect for everyone who enjoys the Halloween wine gums in the shape of eyeballs, dentures and blue worms.
by Arne Rautenberg & Nadia Budde
Winner of the Josef-Guggenmos-Prize 2016
---
Peter Hammer Verlag | 48 pp | Sept 2016 | 5+
All rights available
[original German title: Unterm Bett liegt ein Bett]
Merken
Merken