Aunt Agneta has come up with something very special for her favourite nephew Leo's birthday: They fly to the moon with spaceship Amelia and household robot Albert. There's even a fast lunar mobile on board. But it's not just eating and drinking that prove to be a real challenge in space—what do you do if you break down on the moon? Leo has to come up with a quick solution before the oxygen runs out …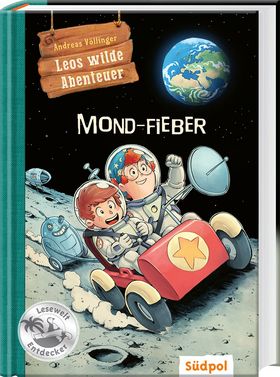 Another volume in the series Leo's Wild Adventures—exciting first readers for boys and girls.
Leo and his inventor aunt Agneta have suspenseful adventures together. With a time machine they travel to the dinosaurs, or fight their way through the garden jungle when shrunk to beetle size .
by Andreas Völlinger
---
Südpol Verlag | hc | 96 pp | 148 x 210 mm | 7+
All rights available
[original title: Leos wilde Abenteuer: Mond-Fieber]
Other titles in the series: