True or a Lie?
Can you pick rain drops from trees? Are cowboys riding on flowers? Can snowmen survive the summer time? And is it toothpaste which comes out of the blue and white tube – or is it a greedy caterpillar?

Illustrator and writer Carolin Löbbert has created a special book with riddles for young children: For every riddle, there are four pages. On the first spread, you see a person or an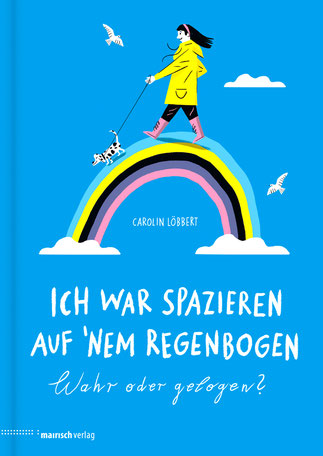 animal doing something, accompanied by a little poem asking a question. On the second spread, there are two possible solutions to the question. 
In her humorous pictures Carolin Löbbert asks the reader what's true and what's a lie. She invites us to wonder, aks questions, get weird ideas and laugh.
by Carolin Löbbert
"What protects you from the rain? A flamingo or the umbrella? Questions such as these make children roar with enthusiasm: Not only do they know the correct answer, they also enjoy the zany picture puzzles the illustrator has come up with. Brilliant." – Börsenblatt

"Again and again Löbbert surprises with sometimes funny, sometimes whimsical portrayals. Each picture tells its own story and allows for individual discoveries." – Isabelle Bach, Deutschlandfunk
---
mairisch Verlag | hc | 80 pp | 215 x 304 mm | 4+
All rights available, except Spanish and Portuguese language rights
[original title: Ich war spazieren auf 'nem Regenbogen. Wahr oder gelogen?]