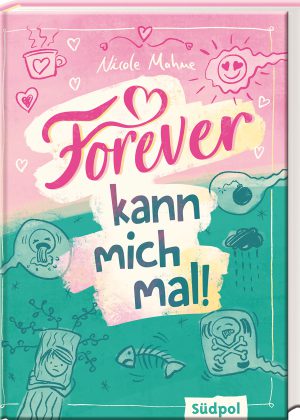 Being in love is terribly beautiful – and terribly awful!
14-year-old Flora finds her puberty-induced physical changes creepy. She wraps herself in baggy jumpers and wears a cap to hide the pimples on her forehead.
But that's not Flora's only problem: her mother is currently trying out a course in positive self-marketing because Flora's father has moved out and has a new girlfriend. But the absolute nightmare is approaching in the form of a school play: She has to play a tree – seriously?!
And this, of all things, together with Toby, whom she secretly has a huge crush on, and with Maik, the annoying class clown. Emotional chaos is inevitable!
Simply amazingly funny and right from the heart of life!
Südpol Verlag
Middle Grade

Original title: Forever kann mich mal!
Age 11+
208 pp | € 15
hc | 148 x 205 mm
Publication: March 2023


Author: Nicole Mahne
"A clear reading recommendation from me for all teens, but also for all parents who want to take a look behind the façade of their female pubescent teens and understand them a little better." – Franzi @lese_sessel
"Light-footed young adult novel that authentically picks up on the reality of teenagers' lives and which I am happy to recommend." – Bianca Grittmann, ekz Bibliotheksservice
"… a really extremely well done young adult book that could have been written like this by life itself – great reading recommendation!" – Lainybelle, Dreaming-till-midnight Blog