Helge is horrified: A flying robot suddenly turns up wherever danger threatens and steals the show from him and Super Pug. Three heroes in one city are clearly too many! Helge and Super Pug urgently need a new, bombastic heroic adventure to outdo the robo hero.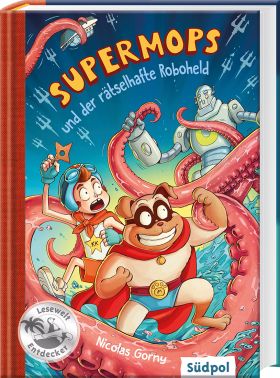 And that comes up faster than expected when Eel Fatal, the fishy bully, and his assistant Hammer-Hainer set a gigantic octopus onto the city to put it to ruins. But do Super Pug and Helge have a chance against these super villains? Or are three heroes in a city sometimes just the right number of heroes?
A new volume in the Super Pug series: Helge and his dog Super Pug fight together against super villains – action-packed and funny with snappy comic illustrations on every page. Fast-paced reading fun for all superhero fans.
by Nicolas Gorny & David Füleki
---
Südpol Verlag | hc | 96 pp | 2020 | 7+
All rights available
[original title: Supermops und der rätselhafte Roboheld]
In the same series: