A deceptive paradise—who can you trust?
Ever since 11-year-old Jorin ran away from his foster family, he has struggled along. But then his life suddenly changes: A mysterious agent turns up and tries to win him over for an undercover mission. The billionaire Borax Dosch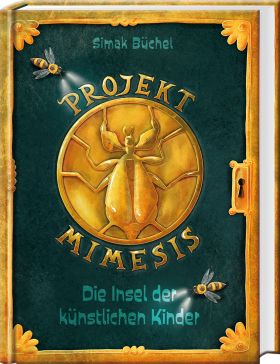 enrols Jorin in the Mimesis Project, a school for disadvantaged children—which happens to be on a paradisiacal island. But is everything really as harmless as it all seems to be at first glance? Jorin doesn't have much time to find out, because he is in great danger himself …
A multi-layered story about artificial intelligence, humanity and the greed for power. Project Mimesis—The Island of Artificial Children is the perfect read for children who enjoy suspense-packed stories. Mysterious agents, a dark secret society and a strange boarding school—an unusual espionage story with a likeable antihero.
by Simak Büchel
"One of the best children's novels in the adventure / science fiction genre that I have read in years" – Astrid van Nahl, Alliteratus

"Agent crime thriller meets science fiction" – Beate Strobel, SCHOOL magazine

"Insanely exciting adventure for all detective and technology fans." – Marsha, mother & little son

"A gripping adventure and science fiction book with a promising and beautifully designed cover that leads us into the middle of a paradise that isn't real … Wow! Absolutely worth reading." – Maren Bonacker, Gießener Allgemeine
---
Südpol Verlag | hc | 264 pp | 2020 | 10+
All rights available
[original title: Projekt Mimesis. Die Insel der künstlichen Kinder]