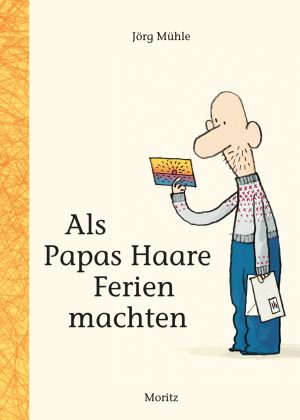 "Stop! Stay here!", Dad shouts, but it's too late. His hair is up and gone. Out of the bathroom, through the hallway into the living room and then through the open kitchen window into freedom!
But Dad doesn't give up that easily. Quickly puts on his coat, grabs the landing net and puts on his shoes.
Here we go! He finds his hair again in a restaurant—hair in the soup—you know how it is. But just as Dad is about to grab the hairs, they slip away. Oh, darn it! He looks in the flower shop, in the park, in the playground. He almost catches his hair at the zoo … then Dad gives up.
A little later he gets mail from Hairgentina and the Sahaira. Dad stays bald. Until one day something unbelievable happens …
This is Jörg Mühle's storytelling debut for early readers: bizarre, funny, fast-paced—a great and weird pleasure in words and images.
Moritz Verlag
Early Readers
Original title: Als Papas Haare Ferien machten
Age 7+
72 pp | € 9.95
hc | 154 x 216 mm
Publication: 2022

Author: Jörg Mühle

Rights sold: English (Gecko Press), French (L'école des loisirs),  Italian (Terre di mezzo), Korean (RH Korea), Polish (Dwie Siostry), Turkish (Kuraldisi)

"Delightfully quirky and simply hilarious." – Westfälische Nachrichten
"Pure slapstick!" – Stiftung Lesen
"An incredibly funny, imaginative first reading book." – ekz, Reutlingen
"Delicious, funny, superb illustrations, with so much wit and ideas and funny situations. A brilliant book!" – Antje Damm
"Jörg Mühle's narrative debut is probably the funniest story for early readers this Spring." – Leselotse
"A turbulent, delightfully funny story with wit in language and words – spot-on right down to the very last sentence. Simply delicious." – Ursula Tichy, Der Standard, Vienna
"Probably the funniest story for early readers this spring." – Börsenblatt des deutschen Buchhandels
"Warm-hearted and funny, it makes you envy all early readers who learn to navigate the jungle of letters with this story." – Ziphora Robina, DIE ZEIT
By the same author and illustrator