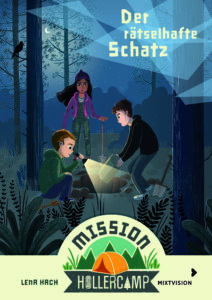 New mission: Treasure hunt
What the hell is going on in Hollercamp this autumn? What at first looks like an invasion of moles turns out to be digging holes by crazy treasure hunters. But what is it about the pirate treasure that is supposedly buried on the campsite? Does it really exist? The three friends Emily, Jakub and Leon come up with a plan to dig up the treasure and get rid of the pesky Buddelt once and for all!
Friendship, adventure and the wild camping world: Lena Hach knows what children's dreams are made of!
by Lena Hach
---
Mixtvision | hc | 200 pp | 144 x 200 mm | 2021 | 10+
All rights available
[original German title: Mission Hollercamp – Der rätselhafte Schatz]
In the same series: