Out into nature! Into a new reading adventure!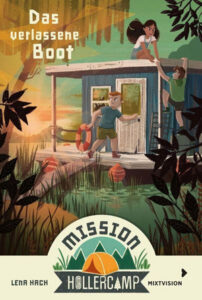 Peace, joy and happiness on the campsite? That was once upon a time. After Leon, Emily and Jakub successfully fought off the creeps from the village during the last holidays, they are now out for revenge. But the three of them have other worries: they have to get to the bottom of the matter with the abandoned houseboat and clarify the all-important question: Where is their friend, the barefoot man? They take up the investigation …
In the second volume of "Mission Hollercamp", successful author Lena Hach tells the story of loyal friends and real solidarity.
Exciting, fast-paced and funny
Page turner for girls and boys
by Lena Hach & Lisa Hänsch
"This is bubbling over with ideas, there are unexpected twists and turns and the readers are immediately captivated." – Gelnhäuser Neue Zeitung


"A new exciting series in an authentic narrative tone full of lovable characters who are also allowed to have quirks and edges –  on the themes of friendship, adventure, holidays and cohesion." – lesewelt.at
___________________
Mixtvision | hc | 200 pp | 2021 | 10+
All rights available
[original title: Mission Hollercamp – Das verlassene Boot]
Other titles in the series: