One moment—one disaster—one love
Tara and Alún are attractd to each other. But an argument tears them apart. And before they can reconcile, a devastating chemical accident catapults them into a different life. Alún stays in the safely distant big city, risking his neck with his street art. Tara returns to the contaminated area and swims for her life. Will the two find each other again?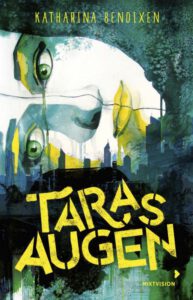 Katharina Bendixen tells of life-threatening environmental destruction, the abuse of state power, blind love and true solidarity in a powerful and tremendously haunting manner.
Powerful dystopian scenario, told from the alternating perspectives of the protagonists Tara and Alún

Near-future has never been so close: exclusion, state surveillance and the abuse of power are part of everyday life

Life after the worst case scenario: Based on catastrophes like Fukushima & Chernobyl

An explosive coming-of-age novel with gripping messages between the lines

For fans of The Hunger Games, Maze Runner and Divergent
by Katharina Bendixen
Leipzig Reading Compass, 2022

Bavaria's Best Independent Books 2022
"In this gripping, linguistically dense new-future novel, a cynical world of environmental destruction, political oppression and inequality becomes the backdrop for a love and coming-of-age story." – The Jury, Bavaria's Best Independent Books

"A real page-turner with suspense until the end!" – www.lesejury.de

"Dystopia meets love, nature, art and friendship. A mixture that is very felicitous and provides a lot of variety. It combines great entertainment with socially important themes that force you to think for yourself. The very different characters really offer all readers a figure to identify with. If you are looking for a gripping, easy-to-read and innovative book, you will be happy with Tara's Eyes." –  madameklappentext.de
---
mixtvision | trade paperback | 384 pp | 2022 | 14+
All rights available
[original title: Taras Augen]