When the tomcat Mr. K wakes up one morning, he feels that something is different. He is sure: he is—a dog!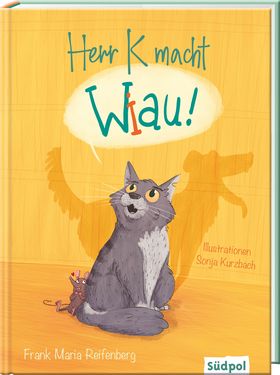 His fiancé, the shrew Mimosa, however, cannot tell the difference. Mr. K can neither bark, nor does he sit on command. Still, Mr. K is certain—he is a dog. And what more does he need than a fur to cuddle, legs to run, a tail to wag and paws to dig?
But a football match between the two teams Union Dog Meadow 05 and FC House Cat makes everyone realize that Mr. Ka can simply be whatever he wants to be!
Original, child-friendly story on the subject of tolerance and diversity. It is a funny and fast-paced story that casually shows children that they should take their own feelings seriously. Everyone can be how they feel and that is perfectly fine. With expressive, funny illustrations.
by Frank Maria Reifenberg & Sonja Kurzbach
---
Südpol Verlag | hc | 80 pp | 170 x 230 mm | 2021 | 5+
All rights available
[original title: Herr K macht Wiau!]