The little dandelion is surrounded by buzzing little insects and has a big dream. He would really like to be able to fly too and see the whole world.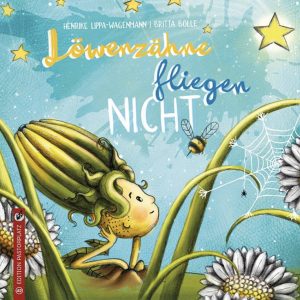 Mocked by the flowers, he still holds on to his dream.
One by one, he asks the ladybird how he can learn to fly, then the grasshopper and the bee. The insects in the meadow have good ideas and suggestions for him., but none of them work and the little dandelion is in for another sleepless night. Completely exhausted, the wind tickles him awake the next morning. .And who would have thought? Dandelions do fly!
The picture book captivates its readers with playful illustrations of a flower meadow with many small loving details to discover, as well as the artistic typography of the text. The book encourages even the little ones to believe in their dreams and not to be deterred
by Britta Bolle & Henrike Lippa-Wagenmann
---
Edition Pastorplatz | hc | 34 pp | 210 x 210 mm | 2021 | 3+
All rights available, except Simplified Chinese
[original title: Löwenzähne fliegen nicht]