He is the first man on Mars, his only real company a tor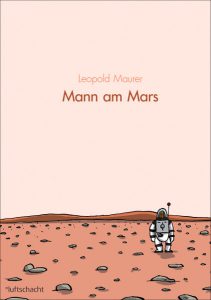 toise called Darwin. And if it is even possible to speak of fulfilling tasks, these would consist of observing Mars rock – a thoroughly monotonous activity – and, an obligation of the mission's sponsors, running a gas station. But soon enough, the most diverse company arrives: aliens filling their tanks, a hateful work colleague, the grandfather living in the past and apparently even God is sitting behind one of the hills.
With subtle humour and fine intuition for absurd scenarios, Leopold Maurer leads his bizarre heroes through the wastelands of the red planet and, in doing so, gradually tells the moving story of a doubtlessly neurotic, yet always charming cosmic explorer.
by Leopold Maurer
"[…] Questions about God and the world, and Man on Mars offers answers that sometimes are hilarious and occasionally cause you sorrow. The great thing about it is the light-handed way in which it is composed." – FAZ