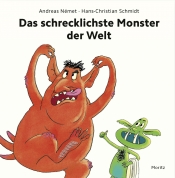 The most terrible monster in the whole world is here! Everyone runs away, screaming in fear! But no, not everyone: we, the brave picture book readers are not afraid. We will not be scared by a grimace and hideous face!
The monster is trying harder and harder, tries to startle us, tries a disguise and even calls upon other monsters for help … But that is also of no use: we are simply not scared! The monster is baffled.
Finally, we turn the tables: we scare the monster! And it is obvious who will be running away now …
This picture books guarantees terrific fun, because it involves its little readers in the action and turns them into the main protagonist. Unequalled!
by Hans-Christian Schmidt & Andreas Német
"Interactive books' that enable children to seemingly communicate with the book's characters are a new trend and are particularly funny. It doesn't matter if the texts are read by an adult or if the child is a beginning reader engaging in the game. The book by Andreas Német and Hans-Christian Schmidt let's the child act in a self-confident manner: It is not afraid of the monsters, but instead the child frightens an entire horde of monsters. This results in a lot of laughter and leaves [the reader] with a wonderful feeling as well as the wish to start all over again." – Projekt Mami – picture book tip, October 2016

"Many great ideas for a book with extremely felicitous design and surprising twists. Highly recommended." – AJUM

"Huge fun for monster hunters, monster fans and of course for all little scaredy cats – because everyone is allowed to join in!" – www.familie.de

"This picture book could just as easily be entitled 'The Greatest Fun'! Because that's what it is: Interactive, full of relish and screamingly funny. The most terrible monster in the whole world is herre! Everyone is running away in fear. But no, not everyone: We, the brave picture book readers, are not afraid. We won't be scared by grimaces and terrible faces! The monster tries harder and harder, tries to startle us, tries in disguise, even calls on other monsters for their help … but all in vain: We are not scared! The monster is at a loss. Finally the tables are turned: We scare the monster! And now it is obvious who will be running away! This picture book is huge fun, because it fully involves its little readers in the plot and finally makes them the main protagonist. This creation by the two picture book artists from Dresden is unequalled." – www.hofheim.de/kultur
---
Moritz Verlag | 96 pp | 230 x 230 mm | Aug 2016 | 4+
Rights sold: Chinese (simplified)
[original German title: Das schrecklichste Monster der Welt]
Merken
Merken
Merken