A fascinating voyage of discovery through the flavours of the world!
How does food taste in different countries of the world?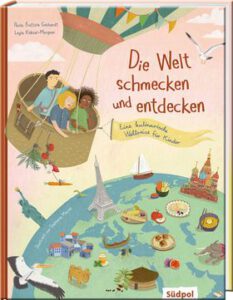 This non-fiction book takes young readers on a journey around the globe: 13 children from different continents introduce their country. The authors Paola Frattola Gebhardt and Leyla Köksal-Mergner conducted interviews during their work in development aid and on their travels around the world and asked them about their favourite food.
The result is this colourful non-fiction book that invites readers to discover the lives of children in other countries. Simple recipes typical of the country with step-by-step photos encourage children to try their hand at cooking. Child-friendly information about culture, everyday life and eating habits round off the country portrait.
Children from 13 countries introduce the culture, daily life and foods from around the world

With lots of information and do-it-yourself ideas: grow a date tree Yoga exercises, build a herb garden and much more

For tolerance and open-mindedness: Was einem schmeckt, fühlt sich nicht mehr fremd an

Countries that are presented: Ethiopia, Brasil, China, France, Great Britain, Japan, Marocco, India, Italy, Mexico, Russia, Turkey, USA
by Paola Frattola Gebhardt, Leyla Köksal-Mergner & Stephanie Marian
"The author duo Paola Frattola Gebhardt and Leyla Köksal-Mergner have filled 120 pages with as much variety as knowledge: Each new country is an eight-page pleasure in itself, each visit to one of the children an immersion in a new world […] Looking beyond one's own nose with curiosity, getting involved with new, unknown things: this is how one learns tolerance and acquires intercultural competence, even at a young age. And especially when it tastes as delicious as this journey through the cooking pots of the world." – Andrea Wanner, titel-kulturmagazin

"This book is a bit of a "jack of all trades", an all-purpose book that you can browse through in search of cooking ideas as well as out of interest in faraway countries, their inhabitants and typical characteristics. In any case, you can learn a lot – and do so all the more gladly because the travel guides are not teacher-like adults, but children whose individual lifeworld certainly has its own charm. Highly recommended and beautifully presented!" – Bernhard Hubner, Alliteratus

"Taste and Discover the World is more than a classic children's cookbook with recipes from all over the world. With map, picture and text, the non-fiction book provides eventful insights into 13 selected countries…" – Béatrice Fivaz, querlesen

"Food, along with history, sights, people and their way of life, is also an essential element in getting to know countries and cultures. And that is wonderfully combined here. […] Page after page not only igniting travel fever, but also whetting the appetite. A treat." – Janet Blume, Kinderbuchlesen.de
---
Südpol Verlag | hc | 120 pp | 230 x 305 mm | 2022 | 8+
All rights available
[original German title: Die Welt schmecken und entdecken. Eine kulinarische Weltreise für Kinder]