Nele Brönner & Melanie Laibl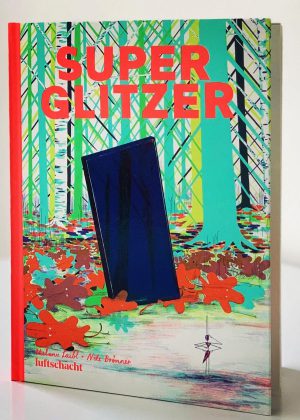 Where does nature end? And where does technology begin? And what happens when the two worlds collide?
A magpie with a sense of beauty finds a shimmering something in the forest. What might it be? Plant or animal? Magpie, fox and mole disagree. Then – luckily? – a troop of ants arrives. And ants, as we all know, are really good at working things out. At least in this story about big and important questions like: Is it okay to keep what you've found? If so, who and for how long? And what is pizza?
A handful of animal friends find a smartphone in the forest. Detached from humans and in the middle of more or less untouched nature, the "thing" experiences a completely new classification. A change of perspective takes place that lets us look at the glittering object and its actions through the eyes of the animals.
These react with irritation, shyness, curiosity and a certain courage to experiment – but also with an ironic look at our exaggerated affinity for technology. The way the animals ultimately make use of technology themselves is then surprisingly human again!
Luftschacht
Picture Book

Original title: Superglitzer
Age 3+
38 pp | € 24
hc | 200 x 260 mm
Publication: Oct 2022

Author: Melanie Laibl
Illustrator: Nele Brönner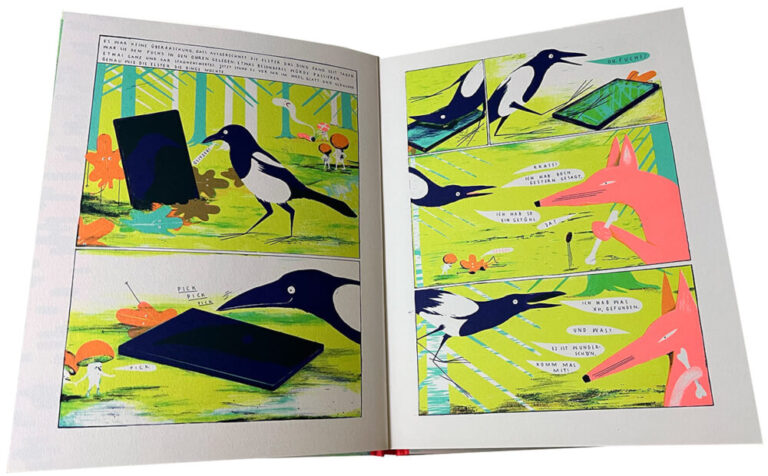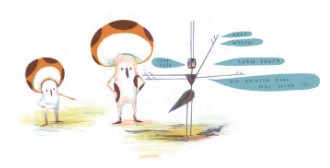 "Super Glitter is a thrill! The neon illustrations combine graphic design and playfulness – try getting that right! – and the page layout varies between full-page images and panels. Even the endpapers participate in showing what happens when you try to get a handle on things that you do not (yet) know anything about." – The White Ravens
"This is a prickly book. The colours are as glaring as the characters are pointed. […] A book like no other, it must be said!" – Thomas Linden and Ute Wegmann, Deutschlandfunk – Die Besten 7, February 2023
"Nature and technology meet in Melanie Laibl's imaginative story and something amazing happens. Nele Brönner finds colours for it that are as weird and outlandish as the adventure with the super glitter: neon green, fire orange, garish pink: the panels of the graphic novel outdo each other in pervasive colourfulness, a rapid change of scenes." – Andrea Wanner, titel kulturmagazin
"Picture book fun in bright colours with outstanding wit and many smart allusions." – Ursula Tichy, Der Standard
"Nele Brönner's illustrations are particularly captivating with their unusual colours and Melanie Laibl constructs a humorous story with her usual creative linguistic wit." – Die Furche