Antje Damm & Will Gmehling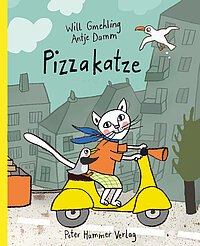 Here's comes Pia the pizza cat, nimble and nippy – MAMMA MIA!
She whizzes through this picture book on her yellow Vespa, loaded with pizza that is so delicious that you won't forget it.
Will Gmehling gives the pizza cat a boost, in fast-paced verses he lets her jet from house to house, and there is something for everyone: for Suleika's sweet grandma there's extra hot Pizza Roma. Or on Wednesdays for the day-care centre: Real Pizza Margherita!
Antje Damm makes the fun complete with her funny imagery. Colourful and wild is the illustrious clientele of the cat, but one thing unites them all: Hulk and Hilda, Fritz and Fritza – they all want delicious pizza!
Peter Hammer Verlag
Picture Book

Original title: Pizzakatze
Age 3+
24 pp | € 15
hc | 210 x 258 mm
Publication: Feb 2023

Author: Will Gmehling
Illustrator: Antje Damm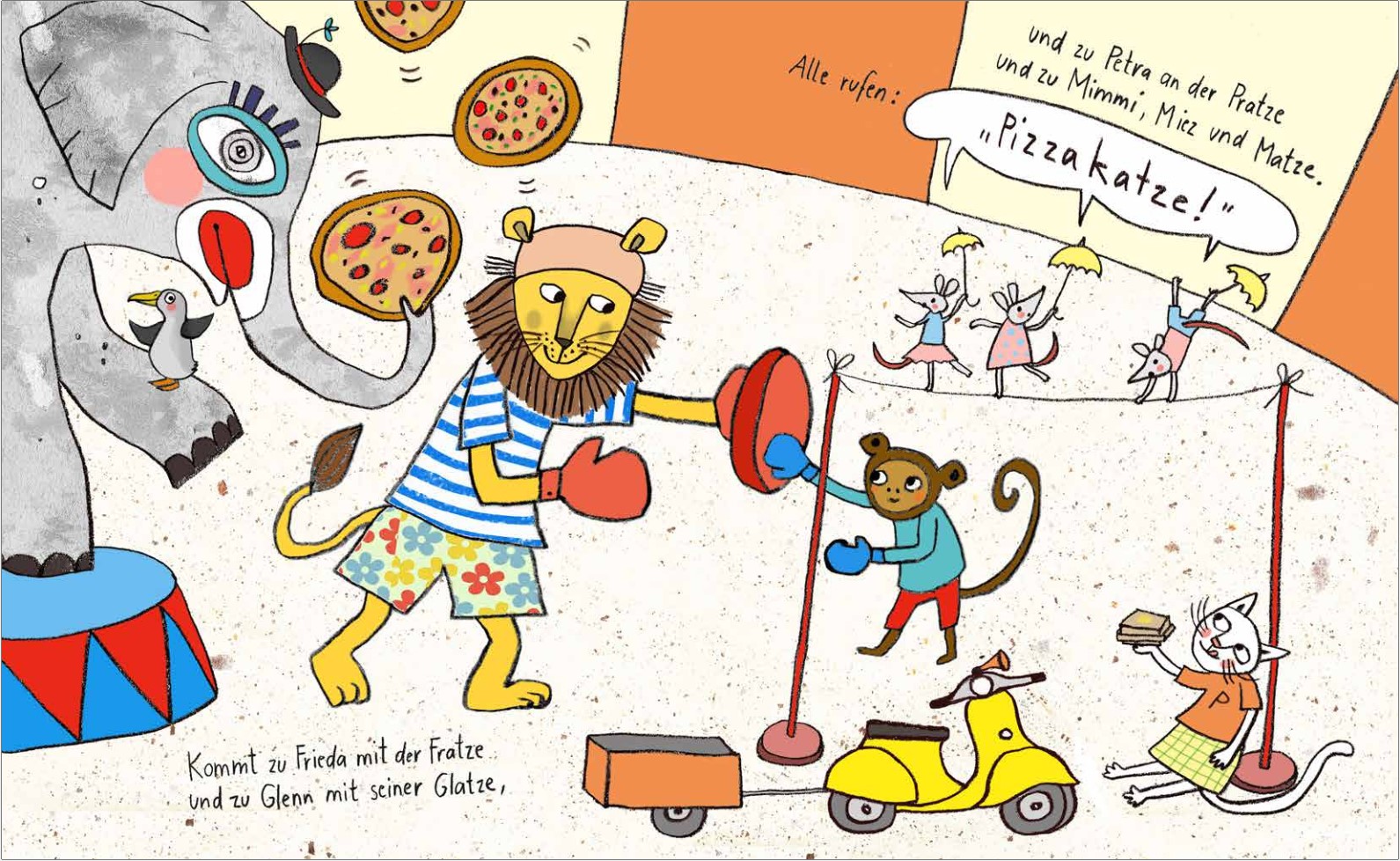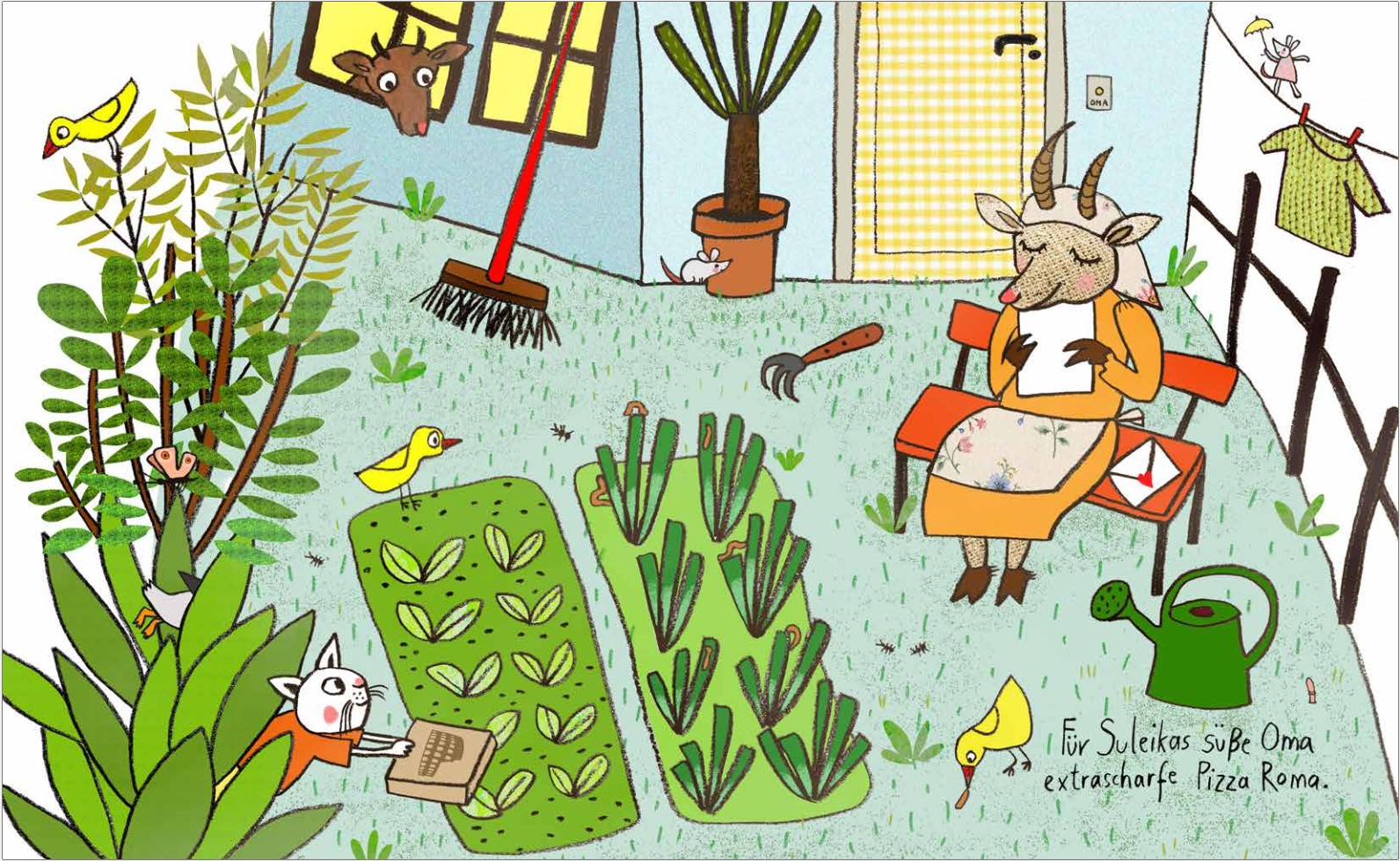 "A little absurd, full of linguistic wit, but still lifeworldly enough to captivate children." – Kathleen Hildebrand, SZ
"The purr-fectly rhymed linguistic playfulness is a perfect match for Antje Damm's grandiose and witty pictures! Of course, this wonderful picture book, which incidentally celebrates diversity and togetherness, also has risks and side effects: A pizza – of course topped according to one's own wishes – actually has to be put in the oven immediately." – Stiftung Lesen
"Will Gmeling's rhymes flit through Antje Damm's great pictures like the pizza cat in this extra-cheerful picture book. There's something to discover with every new round of reading aloud. And I bet there will be many rounds!" – kommbuch.com
"Poetry tip from STUBE: Rhymes by Will Gmehling and illustrations by Antje Damm combine […] to create an eventful picture book story that indulges in the favourite dish of many: pizza." – stube.at
"What unites all people in the end? A good guess: our appetite for pizza! And this is the case with the animals in this amusing book, who are all crazy about pizza from the master baker and leopard Teodoro Tatze. Crocodile and lion, mice and bears, owl and squirrel, all order their favourite pizza from him. […] This rhyming and superbly drawn picture book shows a whole town under the spell of the Italian classic. It's fun and whets the appetite, and in the end we're only too happy to join in: "On the table and the mat I eat pizza from the cat!" – Neue Perle des Monats, cohen+dobernigg BUCHHANDEL
"There are children's books that only appeal to children. Others are made more for parents. And then there are the rare ones that hit the spot, with everyone, and whose texts and verses immediately enter the family vernacular. "Pizza Cat" is such a book." – Kathleen Hildebrand / Süddeutsche Zeitung
"A fast-paced read-aloud that whets the appetite." – Susanna Wengeler, Buchmarkt
"Great picture book fun!" – Tipi Magazine for the Family