"The sky is particularly clear today", says Dad and points to the skyscraper in the distance.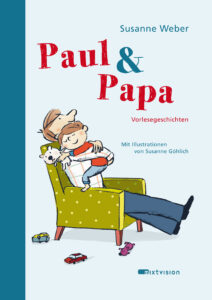 Like every evening, Paul and his dad are standing in front of the skylight and look across the the roofs of the city. Paul loves watching the trains with his dad before he has to go to sleep.
In 20 short read-aloud stories, Susanne Weber writes about the family life of Paul and his dad.  Warm-hearted, funny and most importantly, honest stories about children's every day lives.
by Susanne Weber & Susanne Göhlich
"No big dramas, no fantastic adventures, but pure life takes place in these crisp, short, lovingly told stories." – Eselsohr

"In 20 humorous and warmly illustrated stories in ideal read-aloud length, one is immersed in a turbulent everyday family life." – Bücher

"A warm-hearted and honest book that also captivates with its illustrations." – Westfälisch Nachrichten
___________________________
Mixtvision | hc | 72 pp | 2015 | 4+
Rights sold: Estonian, Hungarian, Polish, Russian, Turkish
[original German title: Paul & Papa. Vorlesegeschichten]
Other titles in this series: