Why do apples fall from the tree?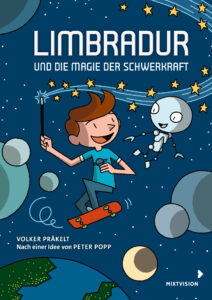 That's the simple opening question posed by world-famous physicist Isaac Newton. More than 300 years later it is Albert Einstein who lets us take on a different perspective on this question.
12-year-old Limbradur enters the famous Albert Einstein Museum at night. He meets Alby X3, a little quirky science robot who explains Einstein's revolutionary ideas to him and takes him on a fantastic journey through time and space.
A book based on the award-winning Fulldome Movie "Gravity", shown in planetariums around the world.
"The narrative non-fiction book Limbradur and the Magic of Gravity combines a fantastic adventure story with information about gravity and brings children and curious adults closer to the thought structure of Albert Einstein, the superstar of science." – vincent-und-voltaire.de

"A narrative non-fiction book that gives unbiased and fun insights into the fascinating world of physics and astronomy and knows how to explain scientific phenomena in an understandable way." – familien-welt.de

"Volker Präkelt and […] Peter Popp take a completely different approach. They combine an adventure story with magical elements, a knowledge book with an encouraging story and a non-fiction book with a family story. The concept works, even if the story jumps around a bit […] at some points. But there is a system behind it. […] Conversations with children go exactly the same way. Adults have a structure in mind. They want to impart knowledge in a certain way. Meanwhile, the child hops from A to B in itsmind and enjoys how loud the skateboard sounds on cobblestones in the middle of the night. What would it be like to be able to float on a skateboard? Limbradur will experience it and learn a few things about the movement of bodies and gravity.

The concept of the book is to arouse curiosity. The authors cleverly throw chunks of knowledge at the children and ask them to play around with them. When the story ends, questions remain. What was that again about the curvature of space? All these questions, all the loose threads of thought and bits of knowledge floating freely through space are coherently and casually explained in a separate section with facts and definitions at the end of the book." – buchkind-blog.de
---
Mixtvision | hc | 136 pp. | 10+
All rights available

[original title: Limbradur und die Magie der Schwerkraft]