Did you ever kill a rabbit when you were young? Or did you study something that doesn't interest you? There's a second chance! Henning Wagenbreth turns back the time in Land in Reverse and you can do all those things again and better.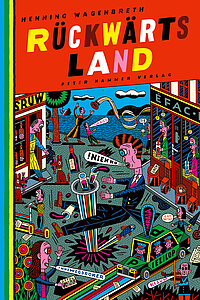 In panels, full-page illustrations and with spot-on rhymes, the Berlin-based illustrator tests the idea on both a small and a large scale. He changes the direction of the vocabulary (yralubacov) and turns the logic of everyday life inside out in a funny way: In the newspaper you can read what will happen the next day, which cars will collide, where a gas tank will explode. Like in a film, played backwards, whoever was lying half-dead on the ground jumps up cheerfully now, new flames blaze out of cold ashes, war cannons fire and fix everything that was destroyed. And the chimney, tall and grey, makes the sky blue by sucking in the smoke.
Energetic, artfully composed images in grandiose colours and dramatically acting characters stand in charming contrast to the verses, which are reminiscent of Wilhelm Busch in their rhythm and humour.
by Henning Wagenbreth
One of the Most Beautiful German Books 2022 (Stiftung Buchkunst)

Shortlisted for the Hotlist 2021

100 Outstanding Picture Books – dPICTUS
7 Best Books for Young Readers— April 2021
"With Land in Reverse Wagenbreth succeeds in reinventing the pictorial arc from the spirit of comics." – Christian Schröder, Der Tagesspiegel

"Many clever questions are raised by this highly philosophical and "incidentally" also very funny picture narrative." – Mario Zehe, Comicblog taz.de


"This picture cinema revives childhood memories, breaks down events and everyday life into sequences commented on with quatrains. Manifold inspiration to look forwards and backwards." – Katrin Rüger, Buchpalast, Munich, Buchmarkt


"Overwhelming delight in the play of language and lovingly detailed illustrations in comic style combine unite to create great picture book fun.

I think Wilhelm Busch would be thrilled."

– Sven Puchelt, Buchhandlung LiteraDur Bücher & Noten, Waldbronn, Buchmarkt

"… there is a lot to laugh about, but also some to think about, because it's not just words and stories read backwards. Every picture and every verse is, precisely worked, a small challenge to the routine functioning of our brains, each page offers a little bit of resistance against the slovenliness of the familiar. No one can ask for more from a good book." – Michael Schmitt, SZ

"Brightly coloured fun to amaze and contemplate." – Tipi

"Playing happily with time – At the moment, it is probably not very tempting to turn back time. We are glad when what we are experiencign is over – even if we don't know when that will be. Henning Wagenbreth's Land in Reverse – a book not only for children! – is … a wonderful encouragement to act out and reflect the question "what if" in one's mind. Because the picture stories also benefit from many playful word reversals, it shoud be said here: a lufrednow erutnevda. Evah nuf." – BR Kultur, Niels Beintker

"Henning Wagenbreth turns the world upside down – or rather: he inverts the space-time continuum, reverses the passage of time, and illustrates the resultant spooling-back of a wild variety of events by means of an avantgarde-ish succession of comic-style scenarios: let's see what happens if we re-run our lives backwards!" – Siggi Seuß, Litrix
---
Peter Hammer Verlag | hc | 40 pp | 198 x 297 mm | 2021 | 8+
Rights sold: French (Éditions des Grandes Personnes), Italian (Orecchio Acerbo), Russian (Boomkniga Press)

VIDEO REVIEW (Children's Book Tip) – 3Sat Kulturzeit
[original title: Rückwärtsland]