The girl on the book was me
A middle grade novel about the power of language and literature
When Lama's mother leaves for Morocco to trace her roots, the eleven-year-old girl feels abandoned. Even more so because her best friend has also moved away. If that hadn't been the case, the stupid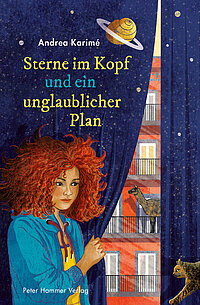 thing wouldn't have happened. And now no one in Lama's class wants to have anything to do with her anymore. She turns into the most unhappy girl in the world. And neither her father, nor her little brother Bali or her cool writer uncle Safran can do anything to change that.
But then she finds an old book in the street, with a girl on the cover who looks amazingly very much like her. It's Irmgard Keun's novel Grown-ups Don't Understand. This book and the strange boy from next door help her to gain a new perspective on the situation. Lama takes courage and makes a bold plan to bring her mother home!
Andrea Karimé turns the reading of the book into the driving force behind the action. Her heroine, sensitive to the sound and imagery of language, finds more than comfort here: the book becomes a means of realisation for her and a motor for her own action.
by Andrea Karimé
Book of the Month, May 2020 – Deutsche Akademie für Kinder- und Jugendliteratur
"An exciting story on different narrative levels that reliably maintains the perspective of the child narrator. The imaginative girl challenges the adults and questions their rules and regulations, especially their contradictions, shenanigans and lies. […] Even when things don't go smoothly, there are always solutions." – Karl-Heinz Behr, eselsohr May 2021

"As a plea for diversity casually gleams in terms of content, the focus here is on the importance of language and literature for all of us. A sparkling star in the children's book sky!" – Ina Hochreuther / literatursterne

"A poetic book with a beautiful, playful, and pictorial language; affectionate and memorable, that makes you smile at times and sigh deeply at others." – Andrea Wedan / Book Culture
---
Peter Hammer Verlag | hc |128 pp | 145 x 222 mm | 2021 | 10+
All rights available
[original title: Sterne im Kopf und ein unglaublicher Plan]