Amazing, this demonstration of power and discipline!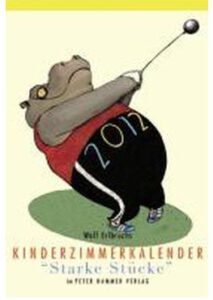 In an elegant slanting position the hammer thrower, who weighs several tons rotates around himself, the ski jumper's ears flutter majestically during the flawless flight. And with impressive volition the flat-footed sprinter launches into a breathtaking catch-up race on the final stretch.
We knew that Erlbruch's heroes are capable of many things, but achievements such as these? Awesome.
Peter Hammer Verlag | 13 pp | 42 x 59 cm | 2011 | 6+
Rights sold: Italian