I am waiting for news.
I hope it will be for today.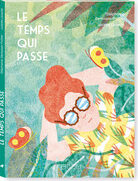 But the day getting longer and longer.
Nothing on the horizon.
by Juliette Léveillé & Stéphanie Demasse-Pottier
Captivating illustrations and a day that drags on, giving way to dreams and wanderings … The wait seems almost unbearable for this young boy, but what exactly is he waiting for?
A sensitive story about the birth of the feeling of love in a child.
---
Maison Eliza | hc | 32 pp | 240 x 170 mm | 2021 | 4+
All rights available except Simplified Chinese
[original title: Le temps qui passe]