Waaaaah?! Big commotion in the henhouse!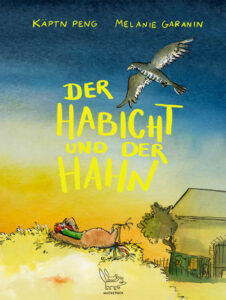 A hawk! Danger! And what does the rooster do? He helps the bird of prey out of the hatch and looks dreamily after it? What's going on here? The hawk and the rooster are actually enemies by nature, everone knows that. Yes, normally they are—but the two have discovered that they like each other very much. And maybe even a little more.
With The Hawk and the Rooster, Käptn Peng has written one of the best children's songs ever: clever, funny, concise, rhythmic, beautiful, catchy and ambitious. The illustrator Melanie Garanin has now turned the song into an enchanting picture book in which even young children can discover: Everything doesn't always have to be done according to the old rules. And everyone is allowed to like, love and be what he or she wants.
An encouragement to feel. Proof that beautiful things can be created together. And an appeal to the unconditional rightness of love.
Nature Book of the Month, January 2022 – German Academy for Children's Literature
"… documented in wild, very dynamic pictures. Another winner from Huckepack Verlag, which publishes extraordinary contemporary and extraordinary books." – Juliana Knöbler/instagram.com/kinderbuecherei

"A picture book based on a children's song, quirky, profound and funny. Käptn Peng's song was virtuously staged by Melanie Garanin and shows the unequal friendship story between a rooster and a hawk. Rules are turned upside down, which some do not understand at all, others very well. […] A picture book for the whole family that tells of friendship and encourages us to stand by our decisions! A slightly different hint to approach the environment sensitively." – The Jury, Deutsche Akademie für Kinder- und Jugendliteratur

"The artistic expression is impressive. The pages, some of which are wild and thoroughly unconventional, give tremendous depth to the few lines of text and garnish [it] with detail and pictorial vehemence. A strong title […] that wonderfully plays out the topic of polymorphic love." – Bodo Pohla, ekz

"An unexpected friendship that never fails to put a big smile on your face, also in this illustrated form." – Alexander Nickel-Hopfengart, Zuckerkick

"You just have to fall in love with this book." – Anja Wasserbäch, Stuttgarter Zeitung

____________________
Huckepack Verlag (imprint of mairisch Verlag) | hc | 32 pp | 196 x 260 mm | 2021 | 5+
All rights available
[original title: Der Habicht und der Hahn]